Pentax Optio WG-1 rugged digital camera test / review by CNET UK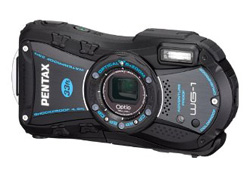 Pentax Optio WG-1
A reviewer from CNET UK has tested the new rugged digital camera Pentax Optio WG-1. The 14 megapixel camera works down to 33 feet under water, is crushproof, handles cold and is shockproof. Let us hear if it is also able to take good photos.
Some key features for the Pentax Optio WG-1:
-14 megapixel image sensor
-5x optical zoom lens (28-140mm)
-Waterproof to 33 feet
-Shockproof from drops up to 5 feet
-Crushproof construction
-Coldproof to sub-freezing temps of minus 10 degrees C
CNET UK ends up giving the WG-1 an overall score of 4 out of 5 possible points. On the positive side there are aspects such as rugged design that handles extreme conditions, HD video, HDMI output and the camera is easy to use. The Pentax also has some negative points including that some people might find the design ugly and softness in some images. If Pentax had worked some more on image quality it would get an even better score, but overall it seems like a good rugged camera.
Read the full review of the Pentax Optio WG-1 rugged digital camera here.