Pentax announces white K2000 / K-m DSLR camera body and white lenses plus online game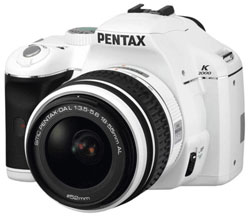 Pentax K2000 / K-m DSLR
Pentax has announced that they are releasing a limited white version of their K2000 (known as K-m in Europe) DSLR camera. The camera comes as a kit with two lenses, the Pentax DA L 18-55mm F3.5-5.6 AL and Pentax DA L 50-200mm F4-5.6 AL. The lenses will also have a white finish to fit the design of the camera body.
The kit will be on sale from February 2009 for about £449 with 18-55mm kit lens and £549 with both 18-55mm and 50-200mm lenses.
Pentax has also announced an online game for K2000 / K-m photographers to help them with the camera and have some fun.



Press release:
Pentax announces limited edition white K2000 Double Zoom Digital SLR System
Golden, CO, December 16, 2008 – Pentax Imaging Company has announced a limited edition, white PENTAX K2000 DSLR system with a double zoom kit. This new model replicates the original K2000 design that launched in September 2008 for consumers who are ready to make the transition from a point-and-shoot digital camera to digital SLR photography. The new camera body and both lenses* feature a brilliant white color with black trim.
The white Pentax K2000 is an entry-level system consisting of the new Pentax K2000 body, a white smc Pentax DA L 18-55mm F3.5-5.6 AL lens, and a white smc Pentax DA L 50-200mm F4-5.6 AL lens.
Bundled as a complete kit for the convenience of the customer, the Pentax K2000 system offers uncomplicated operation for new digital SLR users and family photographers seeking high-quality digital SLR photography for the first time.
Combining Pentax-developed, easy-to-use Auto Picture modes as well as powerful learning functions all housed in one of the smallest, lightest camera bodies in its class, the Pentax K2000 system is ideal for digital SLR beginners.
Additional features on the newest digital K2000 SLR body include a 10.2 megapixel CCD, a 2.7 inch, 230,000 dot high resolution, wide-view LCD panel, and an ultra compact design that facilitates one handed operation. The body also features the same Pentax-developed Shake Reduction technology found on more advanced K series digital SLRs. Pentax Shake Reduction is compatible with more than 25 million Pentax lenses to deliver sharp images even when handheld at slower shutter speeds.
The K2000 also features the powerful Pentax-developed Auto Picture Mode, which selects from Portrait, Landscape, Macro, Action, and Night Portrait modes to tailor the camera settings for any photographic situation.
The camera also has a comprehensive Dust Removal system to help keep images spotless. A dedicated programmable help button clearly explains current camera settings to guide and teach the user about digital SLR photography.
The lenses included with this Pentax K2000 system are the white versions of a newer series introduced with the DA L designation. This DA L series offers the same optical performance and compatibility as the current smc Pentax DA 18-55mm II and smc Pentax DA 50-200mm lenses.
This stylish, limited edition white Pentax K2000 kit will be available on a very limited basis in February 2009 at a price to be announced.