Panasonic Lumix G2 Micro Four Thirds camera test / review by Trusted Reviews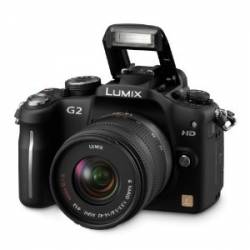 Panasonic Lumix G2
Trusted Reviews has tested a new Micro Fours Thirds camera from Panasonic. The camera is called Panasonic Lumix G2 and is the successor to the Lumix G1. The camera comes with the stabilized lens 14-42mm Lumix G VARIO f/3.5-5.6 MEGA OIS.
Some key features for the Panasonic Lumix G2:
-12.1 megapixel image sensor
-3″ touchscreen LCD
-Pop-up flash
-Electronic viewfinder
-Stabilized lens: 14-42mm Lumix G VARIO f/3.5-5.6 MEGA OIS
-Records videos in 720p HD AVCHD Lite format
Trusted Reviews ends up giving the Panasonic Lumix G2 a "Trusted Reviews Recommended" reward with an overall score of 9 out of 10 points. The G2 gets a top score on build quality, almost perfect score on features while getting a little lower on image quality and value for your money. The G2 seems to be even better than the G1 even though the update is not that big. The camera seems like a winner so if you are looking to get into the Mirco Four Thirds system this might be your choice.
Read the full review of the Panasonic Lumix G2 digital camera here.