Panasonic Lumix DMC-ZX1 test / review by CNET UK – compact superzoom camera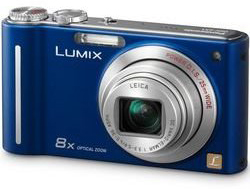 Panasonic Lumix DMC-ZX1
CNET UK has reviewed the Panasonic Lumix DMC-ZX1 compact digital camera. This camera feature an impressive 8x optical zoom in a small camera body and 12.1 megapixels.
Some key features for the Panasonic Lumix DMC-ZX1:
-12.1 megapixel image sensor
-8x optical zoom lens (25-200mm)
-2.7″ LCD screen
-Optical image stabilization
-ISO sensitivity from 80 to 6400
-40MB built-in memory
CNET UK ends up giving the Panasonic Lumix DMC-ZX1 a very good review where the camera scores 9.0 out of 10 points. The reviewer likes the useful zoom range, the excellent quality of the lens and good build quality. The only downside is that Panasonic has used too much noise reduction software at all ISO levels. Seems like a nice little camera for casual photographers.
Read the full review of the Panasonic Lumix DMC-ZX1 camera here.