Panasonic Lumix DMC-GF2 test / review by Photography Blog – micro four thirds camera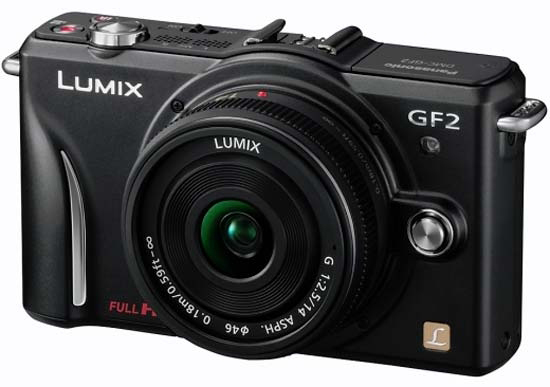 Panasonic Lumix DMC-GF2
Panasonic claims that their Panasonic Lumix DMC-GF2 is the smallest system camera with a built-in flash and the GF2 seems really small! According to specifications the GF2 is 19% smaller in size and 7% less in weight compared to the GF2. Photography Blog has just released a review of this interesting Micro Four Thirds camera.
Some key features for the Panasonic Lumix DMC-GF2:
-12.1 megapixel image sensor
-3″ touch-screen LCD
-Built-in flash
-Full HD video capability (1080i60)
-Compatible with the new Panasonic 3D lens
Photography Blog ends up giving the Panasonic Lumix DMC-GF2 a "Highly Recommended" rating with an overall score of 4.5 stars out of 5 possible. The GF2 scores highest on design, features, ease of use and image quality while it scores a little lower on value for your hard earned money. The Panasonic GF2 seems to be aimed at a new generation of photographers as it relies heavy on the touchscreen LCD. While older photographers might want regular wheels and buttons to change settings I'm sure the touchscreen operations will appeal to many including myself that are accustomed to smart phones with touchscreens and similar electronic gadgets.
Read the full review of the Panasonic Lumix DMC-GF2 Micro Four Thirds camera here.