Panasonic Lumix DMC-G3 micro four thirds camera test / review by Photography Blog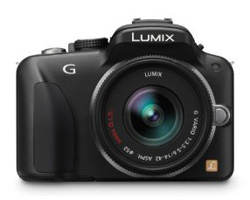 Panasonic Lumix DMC-G3
The same day as the new Micro Four Thirds camera from Panasonic is announced, Photography Blog is able to release their review of the new Panasonic Lumix DMC-G3 digital camera. It is amazing that this blog are so quick, but let us hope they have done a thorough review. The DMC-G3 is the seventh Micro Four Thirds camera from Panasonic and sports a new 16 megapixel image sensor and the camera body is 25% smaller and 9% lighter than the previous model DMC-G2.
Some key features for the Panasonic Lumix DMC-G3 :
-16-megapixel compact mirrorless system
-3.0-inch free-angle LCD with touch control
-1080/60i HD video capability in AVCHD format
-ISO sensitivity 160-6400
-Photo Style and Creative Control filters
Photography Blog ends up giving the Lumix DMC-G3 a very good review with an "Essential" rating and an overall score of 5 out of 5 stars. The camera gets a perfect score on image quality, value for your money and features, and only a little lower on design and ease of use. The reviewer claims that this is the best Micro Four Thirds camera from Panasonic to date, and it even is able to compete with DSLR cameras from Canon and Nikon even though it has a much smaller size. If you want a Micro Four Thirds camera the G3 should definitely be on your list of cameras to check out!
Read the full review of the Panasonic Lumix DMC-G3 micro four thirds camera here.