Panasonic Lumix DMC-FX550 / FX580 test / review by Photography Blog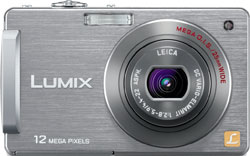 Panasonic Lumix DMC-FX580 / FX550
Photography Blog has reviewed the Panasonic Lumix DMC-FX550 compact camera (also known as Panasonic Lumix DMC-FX580 in USA). This digital camera feature 12.1 megapixels and 5x optical zoom.
Some key features for the Panasonic Lumix DMC-FX580 / FX550:
-12.1 megapixel sensor
-3″ LCD touch screen
-5x optical zoom (25 – 125mm)
-40mb built in memory
-HD video with 1280 x 720 pixels quality
-Venus Engine V processing engine
Photography Blog ends up giving the Panasonic Lumix camera a "Recommended" rating as the camera has many neat features, but some of them are hidden in the menu system so it can be hard for a new photographer to find them. The camera is able to take pictures that are crisp and clear, but there is some noise over at higher ISO levels which is not a surprise in this camera class.
Read the full review of the Panasonic Lumix DMC-FX550 camera here.