Panasonic Lumix DMC-FS33 / DMC-FH22 test / review by Photography Blog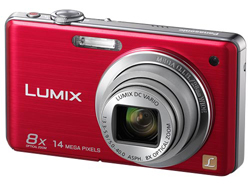 Panasonic Lumix DMC-FS33 / DMC-FH22
Photography Blog has tested the Panasonic Lumix DMC-FS33 (known as DMC-FH22 in some markets) digital camera. The Panasonic camera has over 14 megapixels, a nice zoom range and image stabilization to help you keep your images steady.
Some key features for the Panasonic Lumix DMC-FS33 / DMC-FH22:
-14.1 megapixel image sensor
-8x optical zoom lens (28-224mm)
-Optical image stabilization
-3″ touch-screen LCD
-HD video recording in 1280 x 720p at 30fps
-Intelligent Auto mode
-Venus Engine IV image processor
Photography Blog ends up giving the Panasonic Lumix DMC-FS33 / DMC-FH22 a "Recommended" rating with 4 out of 5 stars. The Panasonic Lumix camera scores highest on value for your hard earned money while scoring a little lower on features, image quality, design and ease of use. Overall the FS33 seems like a good camera with good specifications that should fit most needs and you get the camera at a good price tag. The only shortcomings are no HDMI output and that you can zoom while using the video mode.
Read the full review of the Panasonic Lumix DMC-FS33 / DMC-FH22 digital camera here.