Panasonic Lumix DMC-FS30 budget digital camera test / review by Photography Blog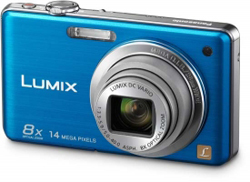 Panasonic Lumix DMC-FS30
Photography Blog has reviewed a budget travel camera from Panasonic. The camera is called Panasonic Lumix DMC-FS30 and contains impressive features such as 14 megapixels and a nice image stabilized lens with 8x optical zoom. Panasonic cameras has a reputation of being good so let us hear what the reviewer has to say about this new camera.
Some key features for the Panasonic Lumix DMC-FS30:
-14.1 megapixel image sensor
-8x optical zoom lens (28-224mm)
-Image stabilization
-2.7″ LCD screen
-Able to record HD videos in 1280 x 720p at 30fps
-Intelligent Auto mode
Photography Blog ends up giving the Panasonic Lumix DMC-FS30 a pretty good review with an overall score of 4 out of 5 possible stars. The FS30 gets a top score on value for your money and 4 out of 5 on image quality, features, design and ease of use. The Panasonic seems to be a very good travel camera especially if you look at what you get for the price. This might not be a camera for a professional photographers, but if you are looking for a good and cheap snapshot camera the FS30 might be your choice.
Read the full review of the Panasonic Lumix DMC-FS30 digital camera here.