Panasonic Lumix DMC-FP3 digital camera test / review by Photography Blog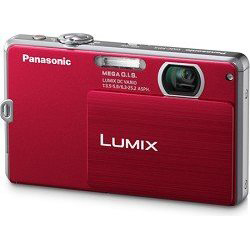 Panasonic Lumix DMC-FP3
Photography Blog has tested the Panasonic Lumix DMC-FP3 digital camera. This camera from Panasonic features lots of megapixels and a large touchscreen.
Some key features for the Panasonic Lumix DMC-FP3:
-14.1 megapixel image sensor
-4x optical zoom lens
-Optical image stabilization
-3″ LCD touchscreen
-HD movie recording (1,280 x 720 pixels at 30 fps)
-Compatible with SDXC memory cards
Photography Blog ends up giving the Panasonic Lumix DMC-FP3 a "Recommended" rating with an overall score of 4 out of 5 stars. The camera scores highest on value for your money, ease of use and design while scoring lower on features and image quality. The FP3 comes at a very nice price tag, but it is by no means revolutionary and does not give you very good pictures at ISO levels above 400. Still, it seems like a nice touchscreen camera if that is what you are looking for.
Read the full review of the Panasonic Lumix DMC-FP3 compact digital camera here.