Panasonic announces Lumix DMC-FS25 digital camera with 3.0″ LCD display and 50MB built in memory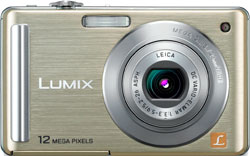 Panasonic Lumix DMC-FS25
Panasonic today announced the new Panasonic Lumix DMC-FS25 compact digital camera. It sports a 12.1 megapixel sensor, 3″ LCD screen and 5x optical zoom.
Some key features for the Panasonic Lumix DMC-FS25:
-12.1 megapixel sensor
-3″ LCD screen
-5x optical zoom (29 – 145mm)
-50MB built in memory
The Panasonic Lumix DMC-FS25 will be available from April 2009 and cost about $250.

Press release:
Panasonic Adds Lumix DMC-FS25 To Its FS-Series Of Slim And Sleek Digital Cameras
DMC-FS25 Features Advanced Intelligent Auto Capabilities and a High-Powered Leica Lens in Ultra-Compact Body
MIAMI, FL (January 27, 2009) – Panasonic today announced the DMC-FS25 as its newest addition to the LUMIX FS-Series of digital cameras. The 12.1 megapixel DMC-FS25 features a 5x optical zoom and a 29mm wide-angle LEICA DC VARIO-ELMAR lens, a 3.0-inch intelligent LCD and is the top-of-the-line FS-Series model. The LUMIX FS models, a stylish sister-line of the highly-acclaimed LUMIX FX-Series, combine easy operation with a sleek look, enabling both beginner and advanced users to take beautiful digital photos with a camera that slips in a pocket.
Panasonic has enhanced the Intelligent Auto Mode (iA) on the DMC-FS25 from the previous FS models to now include AF tracking and Intelligent Exposure functions in addition to the standard Mega O.I.S., Intelligent ISO Control, Intelligent Scene Selector and Face Detection. AF Tracking enables the user to "lock" the focus onto a moving subject*1. The camera then automatically tracks the subject as it moves, keeping it in focus without the need to hold the shutter button halfway down. Additionally, Intelligent Exposure helps capture natural-looking images by suppressing blocked shadows and blown highlights. It continually monitors the light source in the shooting environment and automatically activates the backlight compensation function if it detects the subject is backlit.
The newly added dedicated iA button on top of the camera enables the user to enter iA mode directly without the need for entering the menu. This allows the user to automatically shoot in iA mode any time the conditions change without adjusting the camera's settings.
"The DMC-FS25 is the new top-of-the-line model for LUMIX's ultra-slim line of FS-series cameras," said David Briganti, National Marketing Manager, Imaging, Panasonic Consumer Electronics Company. "By incorporating some advanced features and technologies previously only found on our higher-end models, the DMC-FS25 offers users a stylish, pocket-sized digital camera capable of producing high-quality photos. This new model exemplifies Panasonic's goal of providing photographers at every level with easy-to-use cameras that make photos appear professional grade."
Other features of the DMC-FS25 include a Venus Engine IV image processor, which provides an advanced signal processing system and a shutter release time lag as short as 0.006 seconds. The Venus Engine IV also supports a High Sensitivity mode that lets the camera record at a setting of up to ISO 6400, sensitive enough to capture subjects in near-total darkness without using a flash.
An intelligent 3.0-inch LCD screen detects light conditions and automatically adjusts the brightness levels for viewing in sunlight conditions and dark places. It also helps to preserve battery life. Menus are clearer and easier to navigate with the Display Size option. The new Photo Frame mode lets the user put attractive borders around photos, so when printed, they look like postcards in picture frames. Also, the new My Scene setting lets users assign their most frequently used Scene modes to the setting, so they can easily access that scene instantly. The DMC-FS25 records WVGA (848 x 480) motion pictures at 30 frames per second in 16:9 wide-screen format, as well as standard VGA (640 x 480) format.
Other features of the LUMIX FS25 include:
*
Macro Zoom function lets users pull subjects even closer to capture dramatic close-up shots by using the 3x digital zoom in the wide-angle.
*
Bundled PHOTOfunSTUDIO 3.0 software that features a Face Recognition function that recognizes the faces in photos stored on the computer, allowing the user to easily sort files by the people photographed. Using the software, motion pictures can also be uploaded directly to YouTube.
The DMC-FS25 will be available in silver, black and gold for a suggested retail price of $249.95 and will be available in April 2009. For more information, please visit www.panasonic.com/lumix.