Panasonic announces HDC-TM300 camcorder with 32 GB hard drive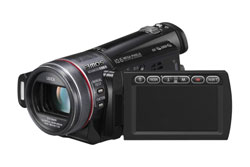 Panasonic HDC-TM300
Among the camcorders that Panasonic announced at CES 2009 we find the HDC-TM300. It is able to record full HD 1920×1080 and has a 32 GB built-in hard drive. The camcorder also contain technology that make it able to switch seamlessly to
a SDHC memory card when the built-in hard drive is full.
Some key features for the Panasonic HDC-TM300:
-32GB Built-In Memory and SD card slot
-Full HD 1920×1080 Recording
-Manual ring
-Electrical viewfinder
-3MOS camcorder System
-10.6 Megapixel Still Images
The Panasonic HDC-TM300 camcorder will sell for about $1299.95.

Information from Panasonic:
Full HD Camcorder with 3MOS Sensor and Manual Operation Recording On SD Card and Internal Memory
The TM300 is a twin memory model that records Full HD images either on its 32GB internal flash memory or an SD (or SDHC) Memory Card. A 32-GB SDHC Memory Card can hold around 12 hours of recorded video clips (in HE mode). The TM300 can copy recorded video images from the SD Memory Card to the internal memory, or vice versa, with easy operation.
The TM300 features the Full HD 3MOS sensor, developed by Panasonic based on its proven 3CCD technology. Panasonic's new 3MOS system captures more vibrant, true-to-life colours, greater detail and richer gradation.
The iA function automatically activates several convenient shooting functions. These include Advanced O.I.S., which compensates for hand-shake to eliminate blurring; Face Detection, which adjusts the exposure so faces are captured perfectly; and Intelligent Contrast Control, which helps ensure proper contrast. Also included is the Intelligent Scene Selector, which determines the shooting conditions and automatically selects the scene setting that will provide optimal results. (Face/Scenery/Low light/Spot Light) And AF Tracking keeps the subject in focus even if it moves around to ensure continuously perfect image quality.
The Manual Ring is provided for users who want more creative freedom in their image production. with the new HDC-TM300 users can enjoy precise, responsive fingertip control over five key settings — zoom, focus, iris, shutter speed, and white balance.
Image sensor size has been increased from previous 1/6 inch to 1/4.1 inch. 3MOS system with 3 full-HD sensors has total pixel count of 9,150,000 pixels* (3,050,000-pixel x 3). While higher pixel count tends to make noise more noticeable when shooting under dim light conditions, HDC-TM300 solves this problem by using 3 high-sensitivity MOS sensors. It records beautiful images even under dim lighting while maintaining high pixel count, thus making it possible to shoot under minimum luminance of 1.6 lx. * Effective motion image pixels: 6,210,000