Panasonic annouces Panasonic HM-TA20 HD Mobile Camera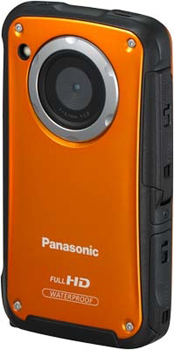 Panasonic HM-TA20
Panasonic has announced a so called Mobile Camera. It is called Panasonic HM-TA20 and has several nice features including being waterproof, shockproof and dustproof.
The camcorder also has a Night View mode for shooting in low light.The TA20 also has a 3.0″ Touch LCD screen and uses MPEG-4 AVC file format (MP4).

Press release:
Panasonic Releases Two New HD Mobile Cameras
The new Panasonic HM-TA20 HD Mobile Camera has a tough design and provides great performance even in dim lighting, so anyone can capture beautiful images easily—anywhere and anytime.
London, UK (February 15, 2011) – Panasonic today announced the release of the tough designed new HD Mobile Camera HM-TA20. The TA20 features a triple tough design that is waterproof, shockproof and dustproof, and Night View mode for shooting in dim lighting. These features greatly expand shooting possibilities—for both movies and photos—and allow users to enjoy active movie shooting during all kinds of sports and recreational activities. In addition, a large 3.0-inch Touch LCD enables easy and intuitive operation anywhere and anytime. The TA20 features the MPEG-4 AVC file format (MP4), which is convenient for uploading and editing images with a PC or the Internet.
The TA20 includes an integrated USB terminal in its compact body. After editing images inside the camera, the user simply connects the camera to a PC and the built-in software launches automatically. This makes it easy to upload movies online, such as to Facebook or YouTube. The new model can also be used as a web camera.
Panasonic introduces the new HD Mobile Camera especially for use in active lifestyles, making it possible to capture Full-HD movies and high-resolution photos as you like.
Some of the other new features of the new HM-TA20 include:
1. Full-HD Shooting with a 3-Meter Waterproof, 1.5-Meter Shockproof and Dustproof Design
The TA20 can be used underwater at depths down to 3 meters. The TA20 is dustproof for use in sandy or dusty places, and shockproof against drops from up to 1.5 meters1 for active movie shooting fun in various situations. The TA20 features high picture quality with Full-HD recording in MP4 format making it ideal for clear, high-resolution viewing both on a large-screen TV and a PC.
1. This doesn't guarantee no destruction, no malfunction, or waterproofing in all conditions.
2. Night View Mode for Bright Movie Shooting
When shooting in dim lighting, the TA20 will automatically prompt the use of Night View Mode. This new function enables shooting at a frame rate of 1/15 with a single operation, which makes it possible to shoot bright images even in dimly lit conditions, such as a birthday party scene where someone is blowing out candles or a party at night.
3. Large 3.0-inch LCD with Touch Operation
The TA20 features a large 3.0-inch LCD with Touch Operation providing smooth, intuitive operation for anyone. The Touch Operation controls not only essential operations such as play, record, stop and zoom, but also enables users to edit, upload and configure settings with one finger. By holding the camera horizontally, images that were taken can be immediately viewed on the large LCD screen.
Other features of the HM-TA20 include:
– Tripod stand included for self-portraits
– Shooting faraway subjects with 4x Digital Zoom
– 8-megapixel still picture recording
– Blur-free shooting with E.I.S (Electrical Image Stabilizer)2
– Automatic optimal settings with iA (Intelligent Auto) mode3/4
– Captures faces beautifully with Face Detection
– 1-button simple operation for easy recording
– Simultaneous linear PCM sound recording with still pictures
– Still image cut out from video clips5/6
– Three playback effects: sepia/monochrome/soft skin
– Use as webcam with Skype
– Direct connection to high-definition TVs with a single HDMI cable
In addition to the TA20, Panasonic will also introduce the TA2 HD Mobile Camera which features Night View Mode for Bright Movie Shooting, a larger 3.0-inch LCD with Touch Operation and a bundled tripod stand for self-portraits.
2. Only for movie recording.
3. iA for movie recording includes 5 settings: Normal/Scenery/Portrait/Low Light/Spotlight. iA for photo shooting includes 6 settings: Normal/Scenery/Portrait/Night Scenery/Night Scenery & Portrait/Macro
4. The functions included in iA may not be applied when conditions do not call for them.
5. Cannot be cut out while shooting a movie.
6. The size of the cut-out still image is the same as that of the movie image.
About Panasonic
Panasonic Corporation is a worldwide leader in the development and manufacture of electronic products for a wide range of consumer, business, and industrial needs. Based in Osaka, Japan, the company recorded consolidated net sales of 7.42 trillion yen (US$79.4 billion) for the year ended March 31, 2010. The company's shares are listed on the Tokyo, Osaka, Nagoya and New York (NYSE: PC) stock exchanges. For more information on the company and the Panasonic brand, visit the company's website at http://panasonic.net