Olympus E-620 DSLR hands on preview by dpreview.com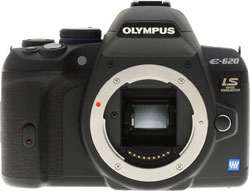 Olympus E-620
Dpreview.com has been able to put their hands on the new Olympus E-620 DSLR camera and have written a preview about their first impressions of the camera.
Some key features for the Olympus E-620:
-12.3 megapixel sensor
-2.7″ tilt screen
-ISO levels from 100 to 3200
-image stabilization in the camera body
-pentaprism viewfinder with 0.96x magnification
-art filters
-7-point auto focus system with 5 cross-type points
Dpreview seems pretty excited about the new DSLR and even calls it a Canon 450D-killer. It will be interesting to see if the E-620 is able to live up to that hype when we see the first pictures from it.
Read the full preview of the Olympus E-620 by dpreview.com here.