Olympus E-600 DSLR camera test / review by Photography Blog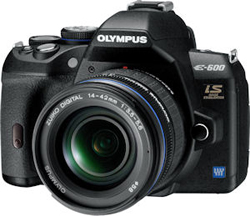 Olympus E-600
Photography Blog has tested the Olympus E-600 DSLR camera. This DSLR from Olympus feature 12.3 megapixels in a small camera body. Let us hear what the reviewer thinks about the latest Four Thirds format camera made by Olympus.
Some key features for the Olympus E-600:
-12.3 megapixel sensor
-475 g Weight
-4 fps continuous shooting
-2.7″ LCD screen
-ISO sensitivity 100-3200
Photography Blog ens up giving the Olympus E-600 a "Highly Recommended" 4.5 out of 5 stars rating. The camera scores highest on value, image quality and design while scoring a bit lower on features and ease of use. The E-600 seems to be almost as good as its bigger brother, the Olympus E-620, but lacks a few features that give the camera a lower price tag. Overall the E-600 seems like a very nice budget DSLR.
Read the full review of the Olympus E-600 camera here.