Nikon D3000 test / review by Photography Blog – entry level DSLR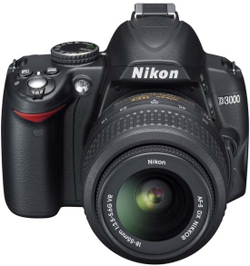 Nikon D3000
Photography Blog has reviewed the Nikon D3000 digital camera. This entry level DSLR sports 10 megapixels and a 11-point autofocus system.
Some key features for the Nikon D3000 camera:
-10 megapixel image sensor
-11-point autofocus system
-Fps continuous shooting
-3″ LCD screen
-Supports SD/SDHC memory cards
Photography Blog ends up giving the Nikon D3000 a Highly Recommended (4.5 out of 5 stars) rating as it is a very good camera. The only downsides are the lack of video recording and Live View that you can get in DSLR cameras from competing brands, but hopefully Nikon will add that in the next model.
Read the full review of the Nikon D3000 DSLR camera here.