Nikon Coolpix S4000 test / review by Photography Blog – digital camera with Smile Timer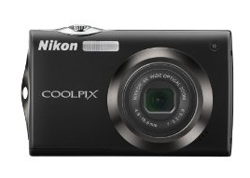 Nikon Coolpix S4000
Photography Blog has tested the Nikon Coolpix S4000 digital camera. This Nikon camera sports 12 megapixels, 4x optical zoom and the ability to record HD movies.
Some key features for the Nikon Coolpix S4000:
-12 megapixel image sensor
-4x optical zoom lens (27-108mm)
-3″ touchscreen LCD
-Optical image stabilization
-720p HD movie recording at 24 fps
-Smile Timer, Blink Proof and Skin Softening
Photography Blog ends up giving the Nikon Coolpix S4000 an "Above average" rating with an overalls core of 3.5 stars out of 5 possible. The S4000 camera scores highest on value, design and ease of use while scoring a bit lower on image quality and features. For casual shooters this Nikon camera could be good enough, but if you want more control over your photography you should look elsewhere. Overall the S4000 is a nice camera with interesting features, but Nikon could have worked a bit more on the image quality.
Read the full review of the Nikon Coolpix S4000 digital camera here.