Nikon AF-S Nikkor 35mm f/1.4G prime lens test / review by Photography Blog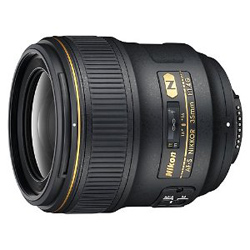 Nikon AF-S Nikkor 35mm f/1.4G
Nikon AF-S Nikkor 35mm f/1.4G is an interesting prime lens that is very fast with its f/1.4 and an interesting focal length at 35mm. The lens uses Nano Crystal Coat to reduce flare and it has Silent Wave Motor for fast and silent autofocus. The website Photography Blog has now reviewed this Nikon Lens.
Photography Blog ends up giving the Nikkor 35mm f/1.4G a "Highly Recommended" rating with an overall score of 4.5 stars out of 5 possible. The lens gets a perfect score on design, image quality and features, a bit lower on ease of use while it scores lowest on value for your money. The Nikkor lens gets you pictures of excellent quality so if you got the money to spend and want a fast prime lens this might be your choice for Nikon DSLR cameras.
Read the full review of the Nikon AF-S Nikkor 35mm f/1.4G lens here.