Nikon AF-S Nikkor 35mm 1:1.8G DX lens test / review by dpreview.com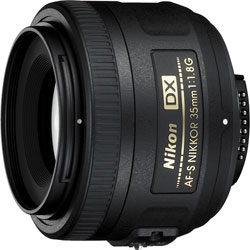 AF-S DX Nikkor 35mm F/1.8G
Dpreview has reviewed the new Nikon AF-S Nikkor 35mm 1:1.8G DX lens that Nikon announced back in February 2009. The lens is only compatible for DX-mount DSLR camera bodies and can not be used on the Full Frame cameras from Nikon.
Andy Westlake of Dpreview ends up giving the Nikon lens a "Highly Recommended" rating because it is able to produce excellent photos when you stop it down a little. It also has very good and fast auto focus.
The only downsides that the Nikon lens is a bit soft wide open, and it got some purple fringing and chromatic aberrations.
Seems like an excellent prime lens for Nikon photographers on a budget.
Read the full review of the Nikon AF-S Nikkor 35mm 1:1.8G DX lens here.