New 8.1 megapixel digital camera from Casio – EXILIM Zoom EX-Z9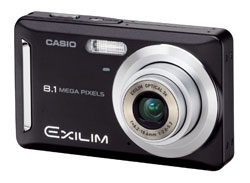 Casio EXILIM Zoom EX-Z9
Today Casio announced a new 8.1 megapixel digital camera called EXILIM Zoom EX-Z9. The "stylish" compact camera will be available in pink, black, silver and orange.
Here are some of features of the camera:
-3x digital zoom
-2.6-inch wide LCD display
-23 "Best Shot Modes"
-8.1 megapixels
-Anti shake DSP
-Easy Mode for simplifying the camera settings
-Casio's Face Detection technology for maintaining a sharp focus


Press release:
CASIO INTRODUCES STYLISH NEW 8.1 MEGAPIXEL
DIGITAL CAMERA
EX-Z9 Offers Increased Portability and 23 Best Shot Modes to EXILIM Zoom Series of Digital Cameras
DOVER, NJ, MARCH 6, 2008 — Casio America, Inc. introduced the latest addition to its stylish series of EXILIM® digital cameras today, the EXILIM Zoom EX-Z9. This newest member of the EXILIM line features a stylish, slim and compact design to increase portability, and provides an improved 8.1 megapixels of image resolution with 3X optical zoom.
This new model stays true to the user-friendly features that have become standard to the EXILIM Zoom series. The 2.6-inch wide LCD display enables users to easily navigate camera operations and enhance the review of images, while the 23 Best Shot Modes and face detection technology help users take high quality photos without having to adjust camera settings.
"Whether you are taking snap shots of your family at the park or your friends at a concert, this high-quality digital camera is sure to satisfy all of your photographic wants and needs," said Bill Heuer, Vice President of Casio's Digital Imaging Division. "Casio's innovative YouTube Capture Mode allows videos to be recorded and uploaded directly to YouTube in as few as 3 steps, making the EX-Z9 perfect for online video enthusiasts."
The EX-Z9 comes loaded with other useful features including Anti Shake DSP which reduces photo blur from shaky hands or moving subjects, allowing users to shoot images with ease and confidence. Easy Mode simplifies the camera settings to three easy menus (image size, flash and self timer). With Easy Mode, the camera is set to take great photos in every situation without having to check presets or accidentally making a wrong adjustment. Casio's Face Detection Technology maintains a sharp focus and the correct exposure for the human face.
Available at retail in March, the EX-Z9 will be available in pink, black, silver and orange and will have an MSRP of $159.99.