Lowepro releases Lowepro Classified Sling 180 AW and 220 AW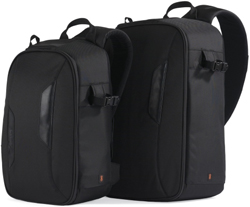 Lowepro Classified Sling
Lowepro has announced two new slings in their Classified Series. The sling is called Lowepro Classified Sling and is available in two sizes, 180 AW and 220 AW. The 180 AW is designed to fit a 7-9" netbook and the 220 AW is designed to fit a 15.4" widescreen laptop. Looks like Lowepro has produced some nice slings for us photographers.
The Lowepro Classified Sling is available in black and cost about £100.

Press release:
Nimble. Discreet. Classified.
Lowepro's TIPA award winning Classified Series introduces the latest addition to its range, the Classified Sling.
Here's a sling bag ideal for professional photographers and photo journalist's alike, providing maximum access and premium features in a stylish, slim profile. Designed to quickly rotate from back to front allowing you to work out of the roomy and deep side-entry compartment, the Classified Sling is ideal to travel with and part of the discreet Classified range of protective camera bags.
There are two sizes to choose from, the 180 AW and the 220 AW. The 180 AW offers a stabiliser strap with a sliding buckle to provide extra stability when on the move. It also features a pocket that fits a 7-9" netbook, while the 220 AW includes a tuck-away waistbelt to offer extra comfort and evenly distribute weight, plus a zippered padded pocket that fits up to a 15.4" widescreen laptop.
Lowepro's patented All Weather Cover™ is neatly tucked away at the bottom of the sling to protect the bag from the elements. With a Hideaway Tripod Mount™ and inclusion of compression straps at the top of the sling for a taut, secure fit, the Classified Sling AW is *airline-compatible and free of dangling parts.
Available in black the Classified Sling can be purchased from all good stockists priced from around £100.
For more information please visit http://www.lowepro.co.uk or contact the Lowepro helpline on 0870 420 4211.