Leica X1 test / review by Dpreview.com – Compact camera with large sensor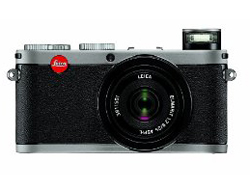 Leica X1
My favourite camera related site on the internet, Dpreview.com, has reviewed the highly anticipated camera Leica X1. The X1 is very special by that is has a fast and fixed lens, and by that it has a large APS-C sized sensor. The Leica X1 comes with a hefty price tag so it is interesting to see if the reviewer thinks the $2000 is asking for the camera is worth it.
Some key features for the Leica X1:
-12.2 megapixel large APS-C size CMOS Sensor
-Fast wide angle, Leica Elmarit 1:2.8/24mm ASPH Lens
-3 frames per second
-ISO sensitivity from 100 to 3200
-11 point autofocus mode
-2.7″ LCD screen
Dpreview ends up giving the Leica X1 a "Recommended" rating. The camera scores highest on build quality, ergonomics and image quality while scoring lowest on value, speed and features. The reviewer really likes the camera and it is able to produce pictures of excellent quality. But when you look at the price tag and the limitations of this camera you easily come to the conclusion that this Leica camera is not for everyone. For regular photographers looking for a compact camera with a large sensor it might be more sensible to look at Micro Four Thirds cameras such as the Panasonic GF1 and the Olympus Pen cameras. I, however, would not mind if someone offered me this Leica camera 😉
Read the full review done by Dpreview of the Leica X1 camera here.