Kodak EasyShare M381 digital camera test / review by CNET UK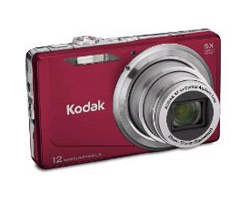 Kodak EasyShare M381
CNET UK has tested the Kodak EasyShare M381 compact digital camera. This camera from Kodak features 12.4 megapixels and 5x optical zoom lens. The camera comes at a very nice price so it will be interesting to see how the image quality is.
Some key features for the Kodak EasyShare M381:
-12.4 megapixel image sensor
-5x optical zoom lens (35-175mm)
-3″ LCD screen
-Uses SD/SDHC memory cards
-Smart Capture
-ISO sensitivity up to 1600
CNET UK ends up giving the Kodak EasyShare M381 an average 6.0 out of 10 points rating. The reviewer likes the photo quality up to ISO 200 and that the camera is easy to use. There are some downsides like no optical image stabilization, narrow lens and poor photo quality from ISO 400. Overall this budget camera from Kodak seems like it could have been worked on a bit more, but it should work good for small pictures like pictures used for the web.
Read the full review of the Kodak EasyShare M381 digital camera here.