Kodak announces Zx1 HD camcorder – Weather resistant design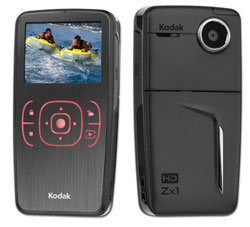 Kodak Zx1 HD camcorder
Kodak has announced a new HD camcorder, the Zx1, that is very rugged and got a weather resistant design.
Some key features for the Kodak Zx1 HD camcorder:
-720p HD video capture at 60fps or 30fps
-2.0-inch LCD screen
-Weather resistant design
-Easy to upload to Youtube
-Available in five colors: black, red, pink, blue and yellow
The Kodak Zx1 HD camcorder will be out in April 2009 and sell for about US$149.95.

Press release:
Rugged new KODAK Digital Video Camera enables on-the-go HD video capture
Never miss a moment with pocketable and weather-resistant video companion
Rochester, NY, January 8, 2009 – Eastman Kodak Company (NYSE:EK) today introduced the new KODAK's Digital Video Camera, a compact and rugged digital device that enables "go-anywhere" High Definition recording.
The Zx1 allows users to shoot and share high-quality video quickly and simply, with 720p HD video capture – at 60 or 30 fps – a vibrant 2.0-inch LCD screen, and built-in software for easy editing and sharing of content to YouTube™ and other social media and networking websites.
"More than ever, people want to capture moments on the go and quickly and easily share them," says John Blake, General Manager Digital Capture and Devices, Vice President, Eastman Kodak Company. "The Zx1 is a fun and interactive way to engage in this kind of storytelling – it's both small and smart, and enables people to record virtually anything, virtually anywhere, and then quickly upload content to video-sharing and social networking websites."
The KODAK Zx1 Digital Video Camera is designed to meet these needs at the touch of a button — no lens cap, dials to turn or settings to adjust. The new camera's advanced feature set includes:
• Pocketable 720p HD video capture at 60 fps
• Weather-resistant design that stands up to splashes, dirt and more – IP43 certified;
• High-quality video capture in bright light or low light – from the beach, to the nightclub;
• Easy editing, personalization, and uploading to YouTube or other Internet sites with built-in video software, ArcSoft Media Impressions for Kodak;
• Expandable SD/SDHC Card slot for memory cards up to 32 GB, that can record up to 10 hours of HD video*;
• Easy HDTV playback with included HDMI cable;
• Sensitive, low distortion microphone that provides crisp, clear audio;
• Pre-charged AA Ni-MH rechargeable batteries and battery charger included, saving money and avoiding waste from used batteries;
• Vibrant 2.0″ LCD;
• Available in five colors: black, red, pink, blue and yellow**;
• Remote control compatible (remote control sold separately).
Uploading to YouTube
YouTube is the world's most popular online video community, and the Kodak and YouTube relationship enables consumers to quickly and easily upload videos to YouTube from the simple and powerful video editing software that comes with the camera.
Accessories
A range of accessories are available for the KODAK Zx1 Digital Video Camera, including:
• KODAK SDHC Memory Cards, available in 4, 8 and 16GB capacities customized for optimal video capture;
• KODAK Adventure Mount for helmet, handlebars and more;
• KODAK Flexi-tripods;
• KODAK cases, camera bags and neck straps;
• Remote control;
• Battery options include AA, CRV3, and KODAK Li-Ion Rechargeable Digital Camera Battery KLIC-8000.
Pricing and Availability
The KODAK Zx1 Digital Video Camera will be available from April 2009, and retail for US$149.95 MSRP.
*Record approximately 20 minutes per 1GB at HD 30fps.
** Color availability may vary.