HP Deskjet D1660 inkjet printer test / review by CNET UK – budget printer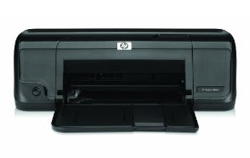 HP Deskjet D1660
CNET UK has reviewed the HP Deskjet D1660 printer. This HP printer has a very low price tag so it is interesting to see how the print quality is on such a cheap printer.
Some key features for the HP Deskjet D1660 printer:
-Budget printer
-Print speeds up to 20 ppm in black and 16 ppm in color
-Print resolution up to 600 x 600 dpi
-Weight 2.3 kg
-Inkjet printer
CNET UK ends up giving the HP Deskjet D1660 an average 6.5 out of 10 score. The HP printer is great at printing text, but the quality of printed photos is pretty poor and it uses quite a lot of ink. If you are looking for a small and cheap printer that is mainly used for text the D1660 might be your choice.
Read the full review of the HP Deskjet D1660 printer here.