Fujifilm FinePix XP30 waterproof digital camera test / review by Trusted Reviews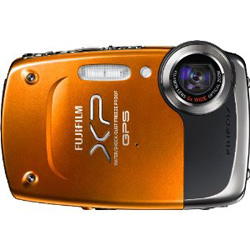 Fujifilm FinePix XP30
Trusted Reviews has tested a waterproof digital camera from Fujifilm that lets you do photographing down to 5 meters below the water surface. The camera is called Fujifilm FinePix XP30 and also has 14 megapixels and 5x optical zoom lens.
Some key features for the Fujifilm FinePix XP30:
-14 megapixel image sensor
-5x optical zoom lens
-Waterproof down to five meters
-Shock proof up to 1.5 metres,
-Freeze proof to -10 degrees Celsius
-GPS Geo-Tagging Function
-HD video recording
-Uses SD and SDHC memory cards
Trusted Reviews ends up giving the XP30 an overall score of 7 out of 10 possible points. The FinePix camera scores highest on design and value for your money and a little lower on features, image quality and performance. The XP30 has many nice features including GEO tagging and nice price tag. The camera would scored even higher if Fujifilm had worked a bit more on image quality and put a better lens into the camera body.
Read the full review of the Fujifilm FinePix XP30 waterproof digital camera here.