Fujifilm FinePix S200EXR test / review by Digital Camera Review – ultrazoom with 14.3x zoom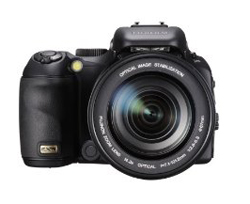 Fujifilm FinePix S200EXR
Digital Camera Review has tested the Fujifilm FinePix S200EXR compact digital camera. This Fujifilm ultrazoom camera contains a lens with 14.6x zoom and a 12 megapixel sensor.
Some key features for the Fujifilm FinePix S200EXR:
-14.3x optical zoom lens
-12 megapixel image sensor
-Optical image stabilization
-2.7″ LCD screen
-Full manual controls
The Fujifilm FinePix S200EXR gets a very good review from Digital Camera Review. The reviewer finds the camera the best ultrazoom he has tested when it comes to image quality and image noise at higher ISO levels. It is also positive that it has RAW capability and fast shutter speed. There are a couple of downsides like high price and that the zoom range is not that long compared to other ultrazoom cameras. Overall the S200EXR seems like a fine superzoom camera.
Read the full review of the Fujifilm FinePix S200EXR camera here.