Fujifilm FinePix S1600 test / review by Photography Blog – superzoom camera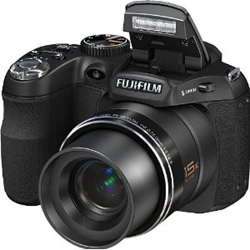 Fujifilm FinePix S1600
Photography Blog has reviewed a budget superzoom camera from Fujifilm. The camera is called Fujifilm FinePix S1600 and comes with 15x optical zoom and 12 megapixels. All this you get for only about £149.99 / $199.99.
Some key features for the Fujifilm FinePix S1600:
-12.2 megapixel image sensor
-15x optical zoom lens (28-420mm)
-3″ LCD screen
-High-definition 720p video recording at 30fps
-Dual image stabilization
-Tracking Auto Focus
-Uses SD and SDHC flash memory cards
Photography Blog ends up giving the Fujifilm FinePix S1600 a "Recommended" rating with an overall score of 4 out of 5 stars. The S1600 scores highest on value for your money, almost as high on image quality, ease of use and design while scoring a bit lower on features. When you look on the price tag one might be a big skeptical of what you can get out of such a cheap superzoom camera as the S1600, but it is quite good when you look at the ok image quality and useful zoom range.
Read the full review of the Fujifilm FinePix S1600 digital camera here.