Fujifilm FinePix F80EXR test / review by CNET UK – digital camera with Pet Detection mode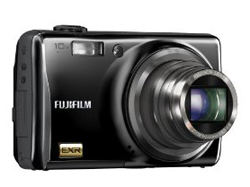 Fujifilm FinePix F80EXR
CNET UK has reviewed a new compact digital camera from Fujifilm. The camera is called Fujifilm FinePix F80EXR and feature a 12MP Super CCD EXR image sensor.
Some key features for the Fujifilm FinePix F80EXR:
-12MP Super CCD EXR sensor
-10x optical zoom lens (27-270mm)
-3″ LCD screen
-Able to record 720p HD movies
-Pet Detection mode
CNET UK ends up giving the Fujifilm FinePix F80EXR a pretty good review with an overall score of 7.7 points out of 10 possible points. The reviewer likes the nice zoom range, the dynamic range modes and that you are able to use autofocus and zooming while using the video mode. What the reviewer does not like is that the F80EXR produces some pixel artifacts, that you get a drop in resolution while using EXR mode and the EXR setting is not fully integrated while shooting in normal mode. Overall the Fujifilm camera is nice looking camera that might have benefited from having a "normal" image sensor instead of the EXR one.
Read the full review of the Fujifilm FinePix F80EXR digital camera here.