Fujifilm FinePix F550 EXR compact digital camera test / review by Photography Blog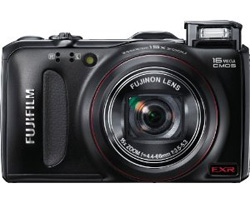 Fujifilm FinePix F550 EXR
Photography Blog has reviewed a compact camera with a pretty wide zoom lens starting at 24mm. The camera is called Fujifilm FinePix F550 EXR and is a follow up to the Panasonic camera F300 model. The F550 has 16 megapixels, a big LCD screen and the ability to GEO-tag your photos.
Some key features for the Fujifilm FinePix F550 EXR:
-16 megapixel image sensor
-15x optical zoom lens (24-360mm)
-3.0-inch High-Contrast LCD
-GPS Geo-Tagging Function
-Mini HDMI port
-Capture movies in Full HD 1080p resolution
-Uses SD and SDHC memory cards
Photography Blog ends up giving the FinePix F550 EXR a "Recommended" rating with an overall score of 4 out of 5 possible stars. The Fujifilm camera scores highest on features where it gets a perfect score, a little lower on design and ease of use, while it gets a lowest score on value for your money and image quality. This camera has many great features including excellent geo-tagging, but it suffers from not so good image quality on photos taken over ISO 200. Let us hope Fujifilm works a bit more on the image quality with the next model of this series.
Read the full review of the Fujifilm FinePix F550 EXR compact digital camera here.