Fujifilm announces FinePix F200EXR with Super CCD EXR – Improved noise levels and dynamic range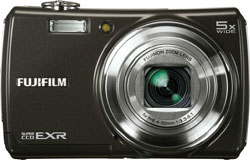 Fujifilm FinePix F200EXR
Fujifilm has announced a new digital compact camera, the Fujifilm FinePix F200EXR, that is the fist camera to use their new Super CCD EXR image sensor. This new sensor is able to record images in 3 different ways letting you take pictures of high resolution, give you more dynamic range and optimize the sensor for less noise in your pictures.
Some key features for the Fujifilm FinePix F200EXR:
-12 megapixel Super CCD EXR image sensor
-5x optical zoom lens (28-140mm)
-Image stabilization
-3″ LCD screen
-Manual controls
The Fujifilm FinePix F200EXR will be out in February 2009 and cost about $400.

Press release:
Fujifilm Debuts Super CCD EXR Technology With FinePix F200EXR
Top-of-the-Line Professional Features in a Compact Digital Camera
Valhalla, N.Y., February 4, 2009 – Following the long line of award-winning F-series models, FUJIFILM U.S.A., Inc., today announced its latest and greatest, the FinePix F200EXR digital camera, introducing the world to Super CCD EXR technology. Combining the 12-MegaPixel, Super CCD EXR with a powerful Fujinon 5.0x wide angle optical zoom lens and a larger 3.0″ high-resolution LCD, the FinePix F200EXR is Fujifilm's most advanced compact digital camera yet.
First announced in September 2008 on the tenth anniversary of Fujifilm's FinePix cameras, Super CCD EXR is a revolutionary new sensor developed in the rigorous pursuit of high image quality.
"There is strong demand in the digital camera market to increase the number of pixels on a sensor, which, all too often, is used as a convenient yardstick for image quality," said David Troy, marketing manager, Consumer Digital Cameras, Electronic Imaging Division, FUJIFILM U.S.A., Inc. "Consumers have realized there's more to a good picture than just the number of MegaPixels, and with our Super CCD EXR sensor we prove that true image quality is about a combination of many factors like tone, hue, color fidelity, dynamic range, sharpness, and resolution – all brought to life vividly in the FinePix F200EXR."
As with previous award-winning F-series models such as the FinePix F10, F31fd, F50fd and F100fd, the F200EXR is a powerful, feature-packed compact digital camera aimed at consumers looking for the most sophisticated in feature-rich point and shoots.
The FinePix F200EXR offers 3 selectable modes in one sensor:
Fine Capture Mode (High Resolution), which deploys all twelve million pixels, and is designed to offer the finest detail of intricate subjects when light is full and even;
Pixel Fusion Mode (High Sensitivity and Low Noise), which caps two adjacent pixels together to produce six million large photodiodes, which are big enough to absorb light in the darkest of conditions, to produce low-light shots of extraordinary quality with minimal noise and grain; and
Dual Capture (Wide Dynamic Range), which captures different exposures with two sets of six million pixels, which, when combined, gives an excellent level of detail in highlights and low lights that would otherwise be lost.
In addition to the new Super CCD EXR sensor, the F200EXR offers the most advanced technologies available, including Dynamic Range Bracketing, Dual Image Stabilization, Face Detection 3.0, and ISO settings of up to an unprecedented ISO 12800, allowing you to capture any shot, any place and at any time with the lowest noise signature to date.
EXR AUTO
With EXR AUTO, the F200EXR recognizes the subject and scene, and automatically decides the optimum EXR shooting mode. With three options of Fine Capture Technology with High Resolution, Pixel Fusion Technology for High Sensitivity and Low Noise, and Dual Capture Technology for Wide Dynamic Range – that users can also select manually – the camera combines the best of EXR selectable sensor modes with SR Auto Automatic Scene Recognition.
New to the F200EXR are an extra-large 3.0" LCD (the better to see all your great photos), HD Photo to capture still photos at 1920 x 1080, HD output (to view high image quality on your HDTV) and new film simulation modes (based on Fujifilm's legendary Velvia, Provia and Soft lines), including Sepia and Black and White modes.
Wider Dynamic Range – Up to 800%
Dynamic Range, or the gradations of light that exist between bright and dark in any setting, can be easily detected by the human eye, but not by most cameras. Through a combination of advances in Fujifilm's new Super CCD EXR and Real Photo Processor, this wide dynamic range dramatically broadens tonal capability and guarantees exceptional rendition of photos with both bright highlights and dark shadows. This expansion of sensitivity captures greater detail, and subtle nuances of brightness and tonality that bring the photo closer to what the human eye actually sees.
In addition to these advances, the FinePix F200EXRhas a number of other impressive features:
*
Super Intelligent Flash: The new "Super Intelligent Flash" is the flash control technology that lets you take flash-assisted macro shots without flash washout. Integrated in the AUTO mode, this next-generation flash system makes it easy to capture subjects and background in bright, clear and natural detail over the full flash range including ultra close-ups.
*
Face Detection 3.0: Featuring automatic red eye removal, it can detect up to 10 human faces in a scene with super fast speed, automatically correcting focus, exposure, and white balance, regardless of where subjects are located within the frame.
*
Dual Image Stabilization: Combines mechanical sensor shift image stabilization with the effects produced with higher ISO.
*
Continuous Shooting: Top 3 /Final 3 at 1.4 frames per second at full resolution and Top 12/ Final 5 frames per second at 3-MegaPixels.
*
High Speed Playback: No waiting for high resolution images to load during playback. The FinePix F200EXR can display images at full resolution at 10 frames per second.
*
Portrait Enhancer Mode: Mimicking a professional photo studio setting, by using Face Detection and preset camera settings, Portrait Enhancer minimizes fine lines and small skin blemishes for smooth, natural looking portraits.
*
Dual Shot Mode: In this selectable mode, the FinePix F200EXR quickly shoots two images in rapid succession – one with the flash and one without – and saves both. This convenient function lets users perform a comparison at their convenience and select the most pleasing image.
*
Special Scene: The FinePix F200EXR has 17 pre-programmed scenes, including a special underwater scene mode for use with a special underwater casing.
*
White Balance (Underwater): Adjusts color temperature for more beautiful blues; you are ready to dive into another world of photography.
*
Micro Thumbnail: A playback feature that allows for viewing an index-style print on the LCD. The FinePix F200EXRwill show up to 100 images in micro form, and the control buttons are used to select specific images. An innovative wheel navigation dial makes it easy to quickly find a single image by being able to jump to particular segments of images in the time sequence.
*
xD / SD / SD-HC Compatible slot: The FinePix F200 EXRfeatures a "xD/SD Compatible slot" which accepts not only Fujifilm's traditional xD-Picture Cards but also Secure Digital (SD) and SD-High Capacity/SD-HC cards too.
The FinePix F200EXR will debut in February 2009 at a retail price of $399.95.
For additional information or hi-res images, go to www.fujifilmusa.com/pma.