Fuji Fujifilm FinePix Z30 digital camera test / review by Trusted Reviews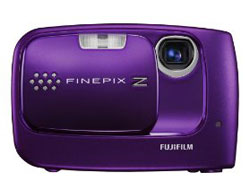 Fujifilm FinePix Z30
Trusted Reviews has reviewed the compact camera Fujifilm FinePix Z30. This digital camera is pretty cheap and ultra compact with a stylish design.
Some key features for the Fujifilm FinePix Z30:
-10 megapixel sensor
-3x optical zoom lens
-2.7″ LCD screen
-Face detection
-50 MB built-in memory
-Supports SD/SDHC memory cards
-Movie function
Trusted Reviews ends up giving the Fujifilm FinePix Z30 a 7 out 10 rating. The camera scores best at build quality while it scores a bit lower on features (it only as automatic modes) and image quality. The auto focus is pretty unreliable and the automatic white balance is a bit off.
Read the full review of the Fujifilm FinePix Z30 camera here.