Eye-Fi launches Eye-Fi Pro X2 8GB memory card with wiresless connectivity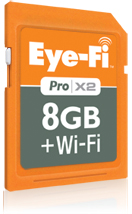 Eye-Fi Pro X2
Eye-Fi has announced a new memory card called Eye-Fi Pro X2 8GB. The Eye-Fi Pro X2 memory card is supposed to be the fastest and largest from the company. The memory card is able to wireless transfer photos and videos to your computer and 25 photo and video sharing sites on the net. Among the sites we find Flickr, Picasa and Facebook.
The Eye-Fi Pro X2 will be availble later this year for about $150.

Press release:
Eye-Fi Unveils Next Generation Experience and the World's Most Advanced Memory Card
New Endless Memory Mode Gives Users Virtually Unlimited Storage
Eye-Fi Introduces Eye-Fi Center, Software that Makes Sharing Photos and Videos Easier
INTERNATIONAL CONSUMER ELECTRONICS SHOW, LAS VEGAS, NV — Eye-Fi Inc. has developed the next generation Eye-Fi experience, which includes an entirely new platform and more flexible sharing options. Unveiled today, the 8GB Eye-Fi Pro X2 is powered by Eye-Fi's proprietary X2 engine and is the company's revolutionary step in achieving high-end memory card performance. Photo enthusiasts will benefit from increased storage capacity, Class 6 performance for faster read/write speeds, faster-than-ever wireless photo and video uploads and increased Wi-Fi range.
Eye-Fi Pro X2 users will also benefit from a new feature, Endless Memory mode, which enables the Eye-Fi card to automatically make space available after photos and videos are uploaded. Last, Eye-Fi is introducing Eye-Fi Center, a new desktop application that gives users more options in sharing their digital memories.
"With the introduction of our first wireless memory card, we made backing up and sharing photos effortless. Now, we're again redefining what is possible with a leap forward in technology, performance and user experience," said Jef Holove, CEO of Eye-Fi. "The new X2 engine delivers further on the promise of a connected device – more convenience and virtually endless storage capacity, so there is no cap on the memories that can be captured."
The Eye-Fi Pro X2 has been honored this year as a CES Innovations Honoree. More information will be available in Eye-Fi's CES booth in the Digital Imaging Zone of South Hall Three at the LVCC, #31916.
Eye-Fi Pro X2 – Faster than Ever
The 8GB SDHC Eye-Fi Pro X2 is powered by Eye-Fi's proprietary X2 engine which includes an exclusively designed chip and an 802.11n radio. The X2 engine enables greater flexibility in memory capacity and faster read write/speeds, achieving Class 6 performance. The 802.11n radio and a new antenna design enable faster wireless uploads and increased Wi-Fi range, and still support the 802.11b and 802.11g standards.
The Eye-Fi Pro X2 wirelessly uploads JPEG and RAW images and videos from the camera to computer and one of 25 online photo and video sharing sites, such as Flickr, Picasa or Facebook. It also allows users to create an ad hoc connection directly to their computer to wirelessly upload photos and videos while away from a wireless router. Or users can upload away from home at more than 10,000 Wayport and open hotspots. Pro X2 automatically geotags photos with information about where the images were taken.
It is available for pre-order on http://www.eye.fi and at select online retailers such as Amazon.com for an MSRP of $149.99.
"More and more we're seeing smart devices like the Eye-Fi card that enable a better user experience. With the volume of photos and videos that are taken every day, consumers want a fast, convenient way to get their images off their camera to their computer and the Web for further processing and sharing," said Alan Bullock of InfoTrends. "Eye-Fi allows consumers to add these capabilities for far less than the cost of a wireless camera."
Endless Memory – No Cap to the Number of Memories that Can be Captured
In Endless Memory mode users can choose to have Eye-Fi automatically make space available on their Eye-Fi Pro X2. Using the card's ability to communicate with the Eye-Fi Service, it receives confirmation whenever photos and videos are safely delivered to the user's computer and/or online sharing site. When the card reaches the user's pre-determined amount of space used, it will remove files that have been safely uploaded, beginning with the oldest – even when the card is not connected to the network. If files have not yet been uploaded, the Pro X2 will not remove them. This option can be set up in Eye-Fi Center.
Eye-Fi Center – Easier Storing and Sharing on Multiple Sharing Sites
Eye-Fi also introduced Eye-Fi Center, a new desktop application for managing the Eye-Fi card and experience. Eye-Fi Center has a redesigned interface that is easy to navigate and use, with drag and drop capabilities. Eye-Fi Center allows users to easily select and republish photos and videos to different online locations, so users can share on multiple sites. It also allows users to get any photos or videos on their computer (even those not uploaded with an Eye-Fi card) into the Eye-Fi system, where they can be easily published online. And it allows users to access some features, even when not connected to the Internet, such as adding a wireless network to their card.
Eye-Fi Center will be available for download later this month.
CES Innovations Honoree
The Eye-Fi Pro X2 has been named an International CES Innovations 2010 Design and Engineering Award Honoree for the X2 engine's innovative design qualities. Products entered in this program are judged by a panel of independent industrial designers, engineers and members of the media to honor cutting edge consumer electronics products. It will be on display in the Grand Lobby of the LVCC during the 2010 International CES.
Eye-Fi's current line-up of wireless SD and SDHC memory cards range in price from $49-$149 and are available at http://www.eye.fi, in store at Apple Retail Stores and Best Buy locations, and at major online retailers such as Amazon.com and Walmart.com.
Eye-Fi has received numerous product awards including Popular Photography's 2009 Photography's Outstanding Products (POP) awards and "Last Gadget Standing" at the 2009 Consumer Electronics Show in Las Vegas for the second year in a row. For more information, please visit http://www.eye.fi or follow us on Twitter @EyeFiCard.
About Eye-Fi
Founded in 2005, Eye-Fi is dedicated to building products and services that help consumers manage, nurture and share their visual memories. Eye-Fi's patent-pending technology wirelessly and automatically uploads photos and videos from digital imaging devices, including digital cameras and the iPhone, to online, in-home and retail destinations. Headquartered in Mountain View, Calif., the company's investors include LMS Capital, Opus Capital, Shasta Ventures and TransLink Capital.