DIWA Labs tests Nikon D3X 24.5 MP DSLR with AF-S Nikkor 50mm f/1.4G lens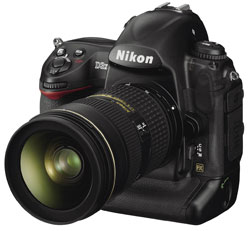 Nikon D3X DSLR
DIWA Labs has been busy this holiday and has released some test results of from the new Nikon D3X DSLR camera. The D3X is basically the same camera as the Nikon D3, but the image sensor has been updated to 24.5 megapixels. The higher resolution means lower continuous shooting speed, less light sensitivity and a mind blowing price that (maybe) only professional photographers can afford.
DIWA Labs has tested the Nikon D3X with the new AF-S Nikkor 50mm f/1.4G lens.
Read all the tests of the Nikon D3X 24.5 MP DSLR with AF-S Nikkor 50mm f/1.4G lens here.
The tests done by DIWA Labs are very technical so you need to read their test guide to understand the test results.