DIWA Labs tests Casio Exilim Pro EX-F1 digital camera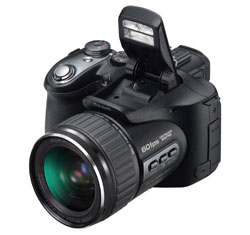 Casio Exilim Pro EX-F1
DIWA Labs has tested the new superzoom camera from Casio, the Exilim Pro EX-F1, that is capable of taking 60 frames per second.
DIWA Labs says that the Casio camera is capable of taking pictures with good sharpness, except some blurry at full telephoto. The lens produces about zero vignetting, but got some chromatic aberration at both wide angle and telephoto. Due to that the camera only have 6 megapixels it is able to produce very good pictures without much noise.
Seems like a very interesting camera!
Some key features for the Casio Exilim Pro EX-F1:
-12X optical zoom (36-432mm equivalent)
-60 frames per second at full resolution
-6 megapixel sensor
-Image stabilization
Check out the tests of the Casio Exilim Pro EX-F1 camera here.
The tests done by DIWA Labs are very technical so you need to read their test guide to understand the test results.