Dell P713w 3-in-1 printer test / review by Printer Comparison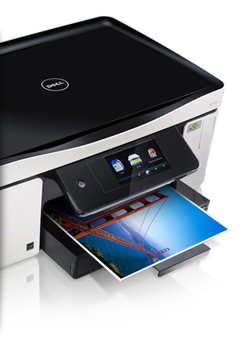 Dell P713w
Printer Comparison has reviewed the Dell P713w 3-in-1 printer. This Dell printer has a very nice design and a big 4.3″ touch screen that should be helpful when making prints.
Some key features for the Dell P713w printer:
-Copy, print and scan abilities
-4.3″ touch screen
-Print speeds up to 33 ppm in black and 30 ppm in color
-Print resolution up to 4800 x 1200 dpi
-Wireless connectivity, USB and ethernet
-Built-in memory card reader
Printer Comparison ends up giving the Dell P713w a good review as it is able to make nice prints, is environmentally friendly and the touch screen is easy to use. The only downsides are no photo paper tray and linear pattern when printing low res photos.
Read the full review of the Dell P713w printer here.