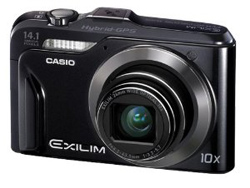 Casio Exilim EX-H20G
Digital Camera Review has tested a digital compact camera from Casio. The Casio Exilim EX-H20G uses a hybrid GPS system that makes you able to tag photos even indoors, with your location. The camera also has over 14 megapixels and a nice wideangle zoom lens that starts at 24mm.
Some key features for the Casio Exilim EX-H20G:
-14.1 megapixel image sensor
-10x optical zoom lens (24-240mm)
-3″ LCD screen
-Hybrid GPS
-720p HD videos with H.264 compression
-Uses SD, SDHC, and SDXC memory cards
Digital Camera Review ends up giving the Casio Exilim EX-H20G an overall score of 3.5 stars out of 5 possible. The Casio scores highest on performance, almost as high on features, while it scores a bit lower on image quality, video quality, design and ease of use. On the positive side we find aspects such as useful GPS-system and good image quality. However, there are some negative aspects as well such as high price tag, a bit overexposure and the controls could have been better designed. If you need the hybrid GPS system this might be your camera.
Read the full review of the Casio Exilim EX-H20G digital camera here.