Casio unveils EXILIM Zoom EX-Z400 digital camera – With Dynamic Photo function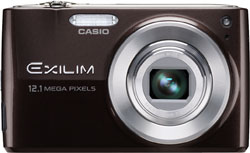 Casio EXILIM Zoom EX-Z400
Casio has unveiled the EXILIM Zoom EX-Z400 digital camera that features Dynamic Photo function technology and a 12.1 megapixel sensor.
Some key features for the Casio EXILIM Zoom EX-Z400:
-12.1 megapixel sensor
-4x optical wide angle zoom lens (28 – 112mm)
-3″ LCD screen
-Image stabilization
-Dynamic Photo function
The Casio EXILIM Zoom EX-Z400 camera will be available from March 2009 for about $299.99.

Press release:
EXILIM Models EX-Z400, EX-Z270, and EX-S12
New high-speed image processing engine allows moving subjects to be cut and pasted onto still backgrounds or other images
Newly developed EXILIM Engine 4.0 built in
Representing a significant upgrade from the EXILIM Engine 3.0, the EXILIM Engine 4.0 is a powerful electronic package comprised of an ordinary CPU and a high-speed dedicated image processing CPU. It delivers outstanding color reproduction and a rich tonal range that guarantees superior visual expression. Noise reduction at high-sensitivity levels also helps to produce high-quality, beautiful images. Even better, despite the new image combination functionality and other functions that entail complex processing, energy consumption is about 30% lower than before, which means longer battery life. The new engine successfully combines the pursuit of radical new functionality with improvements to many conventional camera features.
Dynamic Photo function, where the subject moves against a still background
Thanks to the high-speed image processing capability of the new engine, a moving subject can be cut out of a number of images that have been shot and combined with a different still shot that forms the background. A unique digital camera image where only the main subject in the photo is moving can be created using just the camera, with no editing on a computer.
Other functions that utilize the new image processing engine
Hand-held night photography (EX-Z400 and EX-Z270 only), and shooting in adverse lighting conditions
In cases where it can be difficult to get a good shot, such as with night scenes which tend to result in photo blur, or where backlighting can cause poor exposure of faces or the background, these cameras automatically analyze the situation and make the most appropriate settings. This means that all the user has to do is to press the shutter button to take beautiful pictures.
Tracking AF
Using the image analysis technology in the new engine, the ability of the auto focus function to automatically follow a moving subject has been refined. In addition to improvements to the accuracy of auto focus tracking, when a subject leaves the frame the camera makes a record of it, and when the same subject once again enters the frame it is recognized by the camera, and auto focusing is resumed.
Makeup function
In addition to recognizing faces and adjusting focus and exposure accordingly, these cameras can make adjustments to smooth skin in images and soften facial shadows caused by sunlight, creating beautiful photographs of people's faces. The photographer can choose from one of twelve levels of skin beauty using different strengths of image processing, and can shoot after viewing the results in the LCD monitor.
HD Movie function
Just by pressing the dedicated movie button, these cameras will record beautiful HD movies at a size of 1280×720 pixels.
A complete lineup
EXILIM EX-Z400
This model boasts a wide-angle 28 mm, 4X optical zoom lens and has an effective 12.1-megapixel resolution. It also features a large 3.0-inch high-resolution and super clear LCD monitor and the CCD shift anti-shake mechanism. The long life battery can take around 550 shots on a full charge.
EXILIM EX-Z270
This camera offers a wide-angle 28 mm, 4X optical zoom lens and has an effective 10.1-megapixel resolution. Its stylish form houses a CCD shift anti-shake mechanism and a 2.7-inch widescreen LCD monitor.
EX-S12
This camera has a stylish body measuring just 3.7" wide x 2.1" high x .6" thin (.5" at the thinnest part). It boasts a 3X optical zoom and a super clear, 2.7-inch widescreen LCD monitor and has an effective 12.1-megapixel resolution. It is finished in a design with both the high-class feel and beauty of stainless steel.