Casio EXILIM Zoom Z90 test / review by CNET UK – digital camera with intelligent autofocus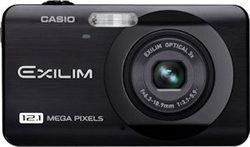 Casio EXILIM Zoom EX-Z90
CNET UK has reviewed the Casio EXILIM Zoom Z90 compact digital camera. This budget camera comes with lots of features like 12.1 megapixels, 3x optical zoom and intelligent autofocus in addition to 32 scene modes.
Some key features for the Casio EXILIM Zoom EX-Z90:
-12.1 megapixel image sensor
-3x optical zoom lens (35-105mm)
-ISO sensitivity 64-1600
-2.7″ LCD screen
-37.5MB built-in memory
-32 Best Shot scene modes
CNET UK gives the Casio EXILIM Zoom Z90 a pretty low "Average" 5.2 out of 10 score. The camera has good build quality and has a low price tag, but it also has a poor lens, no zooming while shooting videos and the 'continuous shutter' is not good. Overall the reviewer is disappointed with this Casio camera.
Read the full review of the Casio EXILIM Zoom Z90 camera here.