Casio EXILIM EX-FH20 review by Lets Go Digital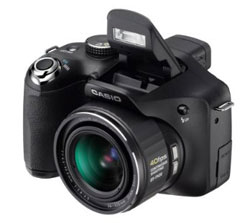 Casio EXILIM EX-FH20
Lets Go Digital has reviewed the Casio EXILIM EX-FH20 compact digital camera. This high speed camera is a cheaper cousin of the EX-F1 model also from Casio.
Some key features for the Casio EXILIM EX-FH20:
-9.1 megapixel sensor
-20x optical zoom (26-520mm equivalent)
-3″ LCD screen
-sensor-shift image stabilization
-30fps at a resolution of 8 megapixels and 40fps at 7 megapixels
-high speed movie recording at up to 1,000 fps
-HD movie recording 1280 x 720 pixels, at 30 fps
-ISO sensitivity 100-1600
Lets Go Digital ends up giving the Casio EXILIM EX-FH20 a "Good" 72% rating. The website likes the specifications of the camera but doesn't give it a top score because there is visible noise at low ISO levels, some chromatic aberrations and low dynamic range.
Nevertheless it will be interesting to see how Casio continue to develop such high speed cameras.
Read the full review of the Casio EXILIM EX-FH20 camera here.