Casio EX-H30 travel-zoom camera test / review by Photograhy Blog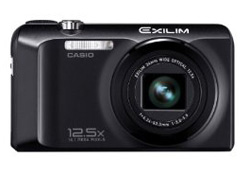 Casio EX-H30
Photography Blog has reviewed a travel-zom camera from Casio. The camera is called Casio EX-H30 and has a nice wide angle lens that starts at 24mm and over 16 megapixels.
Some key features for the Casio EX-H30:
-16.1 megapixel image sensor
-12.5x optical zoom lens (24-300mm)
-3″ LCD screen
-1,000-shot battery life
-Able to record 720p HD movies
-Available in sliver, black, red, and gold
Photography Blog ends up giving the EX-H30 a "Recommended" rating with an overall score of 4 out of 5 possible stars. The camera gets a highest score on design, ease of use and value for your money, while it scores a little lower on image quality and features. This Casio camera is a good choice if you are looking for a travel camera with a broad zoom range. It has many good features and the design is nice.
Read the full review of the Casio EX-H30 travel-zoom camera here.