Canon PowerShot A800 budget camera test / review by About.com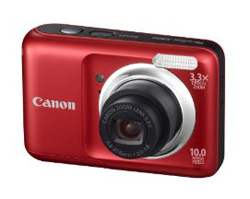 Canon PowerShot A800
About.com has reviewed a very cheap digital camera from Canon called Canon PowerShot A800. This budget camera only has 10 megapixels and meager 3.3x optical zoom lens. Let us hear if the camera is able to perform even though it has such a low price tag.
Some key features for the Canon PowerShot A800:
-10 megapixel image sensor
-3.3x optical zoom lens
-2.5″ LCD screen
-ISO sensitivity 100 to 1600
-Built-in flash
About.com ends up giving the PowerShot A800 a poor review with an overall rating of only 1.5 stars out of 5 possible which one of the lowest scores I have seen in a camera review. On the positive side the reviewer finds aspects such as low price tag, easy to use and it is handy that the camera uses AA batteries. On the negative side we find issues like slow response times, poor image quality, bad auto focus and noisy lens. Overall it seems like Canon has tried too hard to cut back on costs. It would probably be smart to spend a little more cash on a compact camera even if you are on a budget.
Read the full review of the Canon PowerShot A800 budget camera here.