Canon IXUS 115 HS / PowerShot ELPH 100 HS review / test by Photography Blog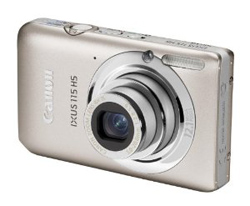 Canon IXUS 115 HS
Photography Blog has tested a new digital camera from Canon that has a slim and stylish design. The camera is called Canon IXUS 115 HS (also known as PowerShot ELPH 100 HS in some markets) and features 12 megapixels and wide angle zoom lens starting at 28mm.
Some key features for the :
-12.1 megapixel image sensor
-4x optical zoom lens (28-112mm)
-Optical image stabilization
-3″ LCD screen
-Full 1080p HD movie recording
-HDMI port
Photography Blog ends up giving the IXUS 115 HS a "Recommended" rating with an overall score of 4 out of 5 possible stars. The Canon camera scores highest on value for your money where it gets a perfect score, while it scores a little lower on image quality, features, design and ease of use. With the 115 HS you get a lot of camera for your money so if you are looking for a stylish compact camera that is able to take good pictures, this Canon camera might be your choice.
Read the full review of the Canon IXUS 115 HS / PowerShot ELPH 100 HS camera here.