Canon announces new FullFrame DSLR with 21 MP and HD video – Canon EOS 5D Mark II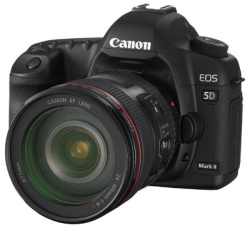 Canon EOS 5D Mark II
Canon today announced that they are releasing a follow up camera to their hugely successful FullFrame DSLR Canon EOS 5D. The new camera is called Canon EOS 5D Mark II and have some very impressive features. The Canon EOS 5D Mark II contains a 21 megapixel CMOS sensor, supports ISO 50-25,600 and full HD video recording. It will be interesting to see how this beat of a camera is able to compete with the new FullFrame cameras from Nikon (D700) and Sony (A900). I think it is very positive that we are seeing more competition in the "economic" segment of FullFrame cameras. Maybe the prices will drop considerably in the future..
The Canon EOS 5D Mark II will be cost $ 2,699 in the US for body only.
Some key features for the Canon EOS 5D Mark II:
-21.1 Megapixel CMOS
-Full HD 1080 resolution movie recording
-3.9 frames per second continuous shooting
-ISO sensitivity 50-25,600
-UDMA card compatibility
-9 AF points + 6 Assist AF points

Press release:
Canon redefines the future of photography:
21.1 MP EOS 5D Mark II offers Full HD video capture
Amstelveen, The Netherlands, 17 September 2008: Canon announces the full frame, 21.1 Megapixel EOS 5D Mark II: the first EOS with full High Definition video capability.
Compact, lightweight with environmental protection, EOS 5D successor boasts a newly designed Canon CMOS sensor, with ISO sensitivity up to 25,600 for shooting in near dark conditions. The new DIGIC 4 processor combines with the improved CMOS sensor to deliver medium format territory image quality at 3.9 frames per second, for up to 310 frames.
Triggered from Live View Mode, HD video capture allows users to shoot uninterrupted at full 1080 resolution at 30fps – for amazing quality footage with outstanding levels of detail and realism.
The integration of HD movie capability into a high-end 21.1 Megapixel camera opens a multitude of new possibilities for photojournalists and news photographers. With its full frame CMOS sensor and outstanding ISO performance, the EOS 5D Mark II will appeal to any photographer in search of the finest camera equipment available – from studio and wedding to nature and travel photographers.
Other improvements to the EOS 5D include
* Addition of Canon's EOS Integrated Cleaning System, with a new Fluorine coating on the low-pass filter
* Larger 3.0" Clear View LCD with VGA resolution, a 170° angle of view and anti-reflective coatings
* Improved menu system including Quick Control Screen for more direct access to common settings
* Automatic peripheral illumination correction, utilising detailed EF lens information to optimise JPEG images straight out of the camera
* Magnesium alloy construction with additional environmental protection
* UDMA memory card compatibility.
"Professional photojournalists and wedding photographers already choose the EOS 5D for its discrete size and outstanding image quality," said Mogens Jensen, head of Canon Consumer Imaging. "The addition of HD movie recording opens a new chapter for EOS. It creates new possibilities for EOS photographers to capture and share their stories and to stay relevant in a rapidly changing digital landscape."
Key Specifications:
* New 21.1 Megapixel CMOS sensor with improved EOS Integrated Cleaning System (E.I.C.S.)
* New Full HD 1080 resolution movie recording
* 3.9 frames per second continuous shooting
* High performance DIGIC 4 providing superb image quality
* Maximum 310 large JPEG images in a single burst with a UDMA card
* 3.0" VGA (920k dots) Clear View LCD
* ISO 100-6400 (expansion from 50 up to 25,600)
* 9 AF points + 6 Assist AF points
Additional information
New CMOS sensor
The EOS 5D Mark II's newly designed full frame 21.1 Megapixel CMOS sensor features ISO sensitivity from 100-6400, expandable to 50, 12,800 and 25,600. Large 6.4µm2 pixels have been redesigned to capture more light and yield a better signal to noise ratio to ensure lower noise images throughout the ISO range. The full frame sensor has the same dimensions as a frame of 35mm film. This means that wide-angle lenses stay wide, without the change in angle of view associated with smaller sensor cameras. As well as benefiting from finer control over depth of field, photographers moving up to the EOS 5D Mark II's full frame format will find the newly designed wide, bright 98% coverage viewfinder on a joy to work with.
New DIGIC 4 processor
A new DIGIC 4 processor combined with 14-bit analogue to digital conversion provides smooth gradations in mono-tonal areas such as skies, and highly accurate colour rendition. As well as HD movie shooting, DIGIC 4's high speed provides for long uninterrupted continuous bursts of large JPEGs, near-instant start-up times and immediate and fast review after shooting. DIGIC 4 also provides for improved noise reduction algorithms, complementing the already low noise images from the EOS 5D Mark II's CMOS sensor.
HD video capture
The EOS 5D Mark II is Canon's first D-SLR to incorporate full HD 1920×1080 video capture. Once filming is started from Live View mode, photographers can fire off either single of continuous stills, with video capture continuing after the final frame is captured.
See everything
A new 3.0" VGA resolution LCD provides a wide 170º angle-of-view, providing plenty of clarity for accurate focus checks in playback. The screen brightness can automatically adjust to suit viewing conditions, extending battery life in low light and improving viewing in bright conditions. A new dedicated Live View button switches modes to display a real-time image on the LCD. This allows EOS 5D Mark II photographers to enjoy simplified shooting from awkward angles. Simple connection to a PC provides easy remote shooting.
Precision focus and metering
A 9-point auto focus system is supported by 6 additional invisible Assist AF points, located inside the spot-metering circle to optimise subject tracking performance in AI SERVO AF mode. For accurate exposure readings in tricky lighting conditions, the spot metering circle covers just 3.5% of the frame.
Control
The EOS 5D Mark II's redesigned menu system includes a new Quick Control screen, for instant access to the most commonly changed settings. A new Creative Auto mode allows photographers to cede control of key settings to the camera, while retaining control over creative variables such background blur, drive mode and image brightness. Custom user settings allow photographers to switch between two completely different camera setups. This is ideal for changing quickly between two different environments, such as switching from working inside a church without flash to outdoors with fill-flash at a wedding.
Accessories
Shooting flexibility is enhanced with a range of new accessories. Shooting capacity can be extended with either the high capacity 1800mAh lithium-ion Battery Pack LP-E6, or Battery Grip BG-E6.
A new optional Wireless File Transmitter –
the WFT-E4 – offers external HDD and GPS compatibility along with ability to transmit images direct to computer or FTP server, or operate the camera wirelessly. Both the BG-E6 and WFT-E4 feature a vertical orientation shutter release and other key controls for comfortable portraiture work, with a substantial grip to help balance the camera when used with long lenses.
Technologies Explained:
CMOS
Canon's CMOS technology is one of the company's key competitive advantages, with noise reduction circuitry at each pixel site delivering virtually noise-free images. In comparison with CCD technology, the lower power consumption characteristics of Canon's CMOS sensors also contribute to longer battery life.
Signal conversion in Canon's CMOS sensors is handled by individual amplifiers at each pixel site. Unnecessary charge transfer operations are avoided, vastly speeding up the process of getting signal to the image processor. Noise generation is reduced, power consumption is limited and faster frame rate potential is increased.
DIGIC
Image data captured by the CMOS sensor is processed by Canon's purpose-built DIGIC image processors before being written to the camera's memory card. DIGIC technology uses advanced image processing algorithms to ensure precise, natural colours, accurate white balance, and advanced noise reduction. Ultra-fast processing speeds result in highly responsive camera operation and near-instant start-up times.
DIGIC chips work with a high speed DDR-SDRAM image buffer – reading, processing, compressing and writing image data fast enough to keep the buffer clear during long continuous shooting bursts. And because DIGIC integrates all key processing functions, power consumption is kept to a minimum.
EOS Integrated Cleaning System
The EOS Integrated Cleaning System combats sensor dust in three important ways: Reduce, Repel and Remove.
* Reduce – Internal camera mechanisms are designed to minimise dust generation. The redesigned body cap prevents dust generation through wear on the cap itself.
* Repel – Anti-static technologies, including a special fluorine coating, are applied to the low-pass filter covering the front of the sensor so as not to attract dust.
* Remove – A Self-Cleaning Sensor Unit uses hi-frequency vibrations to shake dust from the infrared filter for a period of approximately one second after each start up. For instant shooting after power up, this feature is disabled immediately the shutter release is depressed.
Canon has also developed an internal Dust Delete Data system, which can map the position of visible dust on the sensor. This can then be deleted automatically after the shoot with the latest Digital Photo Professional software.
Picture Style
Picture Style pre-sets simplify in-camera control over image qualities. Picture Style pre-sets can be likened to different film types – each one offering a different colour response. Within each selectable pre-set, photographers have control over sharpness, contrast, colour tone and saturation. The camera's factory default configuration is set to deliver immediately-usable JPEG images without need for additional menu settings. Picture Style presets applied to a RAW image can be revised with Canon's Digital Photo Professional software.
The six pre-sets are:
* Standard – for crisp, vivid images that don't require post-processing
* Portrait – optimises colour tone and saturation and weakens sharpening to achieve attractive skin tones
* Landscape – for punchier greens and blues with stronger sharpening to give a crisp edge to mountain, tree and building outlines
* Neutral – ideal for post-processing
* Faithful – adjusts colour to match the subject colour when shot under a colour temperature of 5200K
* Monochrome – for black and white shooting with a range of filter effects (yellow, orange, red and green) and toning effects (sepia, blue, purple and green).
Software
Digital Photo Professional Software
Digital Photo Professional software provides high speed, high quality processing of lossless RAW images. Processing with Digital Photo Professional allows real-time display and immediate application of image adjustments, giving control over RAW image variables such as white balance, dynamic range, exposure compensation, noise reduction and colour tone – plus the ability to view Auto Focus points on an image. The Lens Aberration correction tool allows precise correction of different types of distortion caused by certain cameras. Images can be recorded in camera with sRGB or Adobe RGB colour space.
Digital Photo Professional supports sRGB, Adobe RGB, ColorMatch RGB, Apple RGB and Wide Gamut RGB colour spaces. ICC (International Colour Consortium) profiles can be attached to TIFF or JPEG images when converted from RAW. This allows faithful reproduction of colours in software applications that support ICC profiles, such as Adobe Photoshop. For improved efficiency, a set of image adjustments can be saved as a recipe and applied.
EOS Utility
The latest version of EOS Utility provides essential support for Live View remote shooting, camera configuration and image transfers. Tightly integrated with Digital Photo Professional, EOS Utility can be configured to monitor 'hot' folders, automatically renaming and moving incoming images to a structured file system. Users can also tag their images with EXIF data, including copyright information.
Picture Style Editor
Picture Style Editor allows users to create individual Picture Styles that fit with their personal requirements. Each Picture Style contains detailed information on how specific colours should be represented within an image. Once new Picture Styles have been created, they can be uploaded directly into the camera and applied to JPEG or RAW images. When working with RAW files in DPP, both personal Picture Styles and the 6 predetermined Picture Styles can all be adjusted.