Another new Powershot / IXUS camera from Canon – Canon Powershot SD890 IS / IXUS 970 IS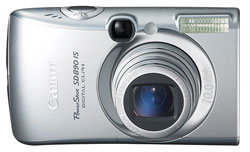 Canon Powershot SD890 IS
The third compact camera (check the other 2 cameras here) that Canon announced today is called Canon Powershot SD890 IS (Canon IXUS 970 IS in Europe). The most exciting feature with this camera is 5x optical zoom, although it starts at 37mm (35mm equivalent) so the lens isn't very wide.
Some highlights about the camera:
-F3.2-5.7, 5X optical zoom lens, equivalent to 37 – 185 mm (the longest ever on in the SD/IXUS series)
-Optical Image Stabilization
-10.0 Mega pixel image sensor
-Face Detection Technology now with White Balance and Face Select &
-2.5″ LCD display with 230,000 pixels; optical viewfinder also available


Press release:
Digital IXUS 970 IS: enhanced flexibility with new 5x optical IS zoom
Amstelveen, The Netherlands, 13 March, 2008: Canon today announces a powerful new addition to its Digital IXUS range of stylish compact cameras. The 10 Megapixel Digital IXUS 970 IS features a brand new 5x optical zoom lens – the longest ever zoom in the range – together with an enhanced version of Canon's lens-shift type optical Image Stabilizer (IS).
The Digital IXUS 970 IS also features Motion Detection Technology, which works in tandem with IS to reduce blur caused by subject motion and camera shake. Face Detection Technology with Face Select & Track and Face Detection White Balance is also included. These features provide accurate, natural-looking people shots in all situations. As with all Digital IXUS models in the first half of 2008, auto focus is enhanced for darker conditions; it is now effective in situations approximately 1-stop darker than was possible in previous models.
A bright, clear 2.5" PureColor LCD II screen and new Multi Control Dial enhance the user experience, offering a greater degree of convenience. Thanks to Canon's optical expertise, all these improvements have been made without sacrificing the iconic design that has made Digital IXUS the ultimate style camera brand.
"With its 5x zoom, the Digital IXUS 970 IS brings a new level of performance to Canon's leading design brand," said Mogens Jensen, Head of Canon Consumer Imaging, Europe. "Once again Canon is using its optical expertise to deliver powerful compact cameras in effortless style."
Features:
* Uncompromising Digital IXUS style and build quality
* 10.0 Megapixel image sensor
* 5x optical zoom lens
* Enhanced lens-shift type optical Image Stabilizer (IS) delivering a 4-stop advantage
* High ISO Auto with Motion Detection Technology
* Face Detection Technology now with White Balance and Face Select & Track
* Automatic Red-Eye Correction in shooting and playback
* DIGIC III¹ with Noise Reduction Technology
* 2.5" PureColor LCD II plus optical viewfinder (OVF)
* Enhanced auto focus performs at up to 1-stop darker
* Multi Control Dial
* 18 shooting modes including new Sunset mode and My Colors photo effects
* Extensive movie options including VGA 30fps, Long Play and Time Lapse movie modes
* Optional accessories include Soft Case and High Powered Flash
* Easy printing with PictBridge and quick print order settings in playback mode
New zoom lens
The Digital IXUS 970 IS features a brand new 5x optical Image Stabilizer zoom lens, delivering a greater zoom reach than any previous Digital IXUS. Thanks to a comprehensive redesign by Canon's optical engineers, the lens has a new four-group configuration incorporating UA (Ultra-high refractive index Aspherical) lens elements. UA elements help to provide the gain in zoom power, and ensure that a compact size and straight optical pathway are maintained, for easy usability and optimum image quality.
Enhanced optical Image Stabilizer
The Digital IXUS 970 IS optimises performance with its enhanced optical
Image Stabilizer (IS). The lens-shift type IS improves on the systems used in previous Digital IXUS models, now delivering a 4-stop advantage, an increase of 1 stop. The extra stop allows photographers to use shutter speeds twice as long when shooting hand held, and obtain blur-free shots. The enhanced IS also reduces the blur caused by camera shake when shooting at the telephoto end of the camera's 5x optical zoom improves performance in low-light, enabling shots in conditions where no shot would have been possible before. This enhanced low-light capability is aided by improvements to the camera's auto focus; AF is now capable of achieving focus in conditions of up to approximately 1 stop darker.
A touch of class
Building on the Digital IXUS 'perpetual curve' design, the Digital IXUS 970 IS slopes gently back towards the grip. Its two-tone finish gives a precise contrast of matte silver with muted gloss and glossy metallic, for an elegant sheen. The overall effect is one of understated individuality, complementing the camera's discreet photographic power.
Bye-bye to blur – Motion Detection Technology
Activated in High ISO Auto, Canon's intelligent Motion Detection Technology works to eliminate motion blur. When camera shake or moving subjects are detected, the system automatically provides an ISO boost between ISO 80-800 – counteracting motion blur to improve action shots and night snaps, without compromising shots where no ISO boost is needed. The technology intelligently combines inputs from Face Detection Technology, the optical Image Stabilizer, changes in scene brightness and changes from frame to frame to identify the subject and detect motion.
Enhanced Face Detection Technology
Equally comprehensive is Canon's approach to Face Detection Technology. The Digital IXUS 970 IS includes Face Select & Track, which allows you to select a single face from a crowd of up to 35 detected faces. The optimum focus, exposure, flash and – for the first time – white balance will then be set for that face, tracking the subject as they move around the frame.
Canon's Red-Eye Correction draws on Face Detection Technology to eliminate red-eye from photographs. Whenever a face is detected in a shot, red-eye is checked for. It can either be removed automatically whilst shooting or in playback mode. New AF Point Zoom allows the photographer to magnify the AF frame when the shutter button is pressed half way, so that facial expressions can be checked before shooting.
As well as powering features such as Face Detection Technology, Canon's DIGIC III image processor enables quick response times and fast buffering speeds. The processor also incorporates advanced Noise Reduction Technology for excellent image quality at high ISO settings.
Intuitive ergonomics, easy menus
The Digital IXUS 970 IS is made for intuitive use. From the moment the camera is powered up, the 230,000 dot high resolution 2.5" PureColor LCD II screen provides an easy way to frame up shots and navigate the easy-use menu system. PureColor LCD II offers a number of benefits over conventional LCD screens, including improved colour contrast for enhanced visibility, a wide viewing angle for easy shooting and instant image sharing, anti-glare coatings for viewing under bright light and anti-scratch coatings. Additional photo framing options are provided by the camera's Optical Viewfinder (OVF). The Digital IXUS 970 IS includes a Multi Control Dial for the first time in the range. This wheel enables the user to change camera settings and scene modes quickly, as well as offering intuitive navigation of menus and convenient image browsing in playback.
A host of features enables users to enhance their shooting options. Users can choose from a range of 18 shooting modes, including Special Scene modes that automatically optimise camera settings for common shooting subjects.
The Digital IXUS 970 IS features new Sunset scene mode for the optimum capture of this tricky subject. Movie options include Long Play (LP) mode, which uses only half the memory of standard movies, and Time Lapse movie for the creation of fun and atmospheric accelerated film clips.
Several menu features also let users manipulate their images in-camera, without the need for computer software. The Trimming function offers image trimming to predetermined sizes. This function is integrated with Face Detection Technology – if several faces are detected in frame users can jump between faces to create instant trimmed portraits. The Image Resize function enables users to create smaller image files by reducing the number recording pixels in larger images. The original image can then be deleted in order to save space on the memory card, leaving the new file an ideal size for e-mailing and uploading to the web.