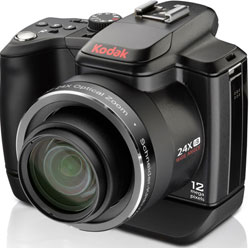 Kodak Z980
Seems like news about new cameras from Kodak has been leaked and in response Kodak have released a press release a bit early about their new cameras. The biggest news is a compact camera called Kodak Z980 that have incredible reach with 24x optical zoom. The camera also features a 12 megapixel sensor and image stabilization.
Some key features for the Kodak Z980 digital camera:
-24x optical zoom
-12 megapixel sensor
-Image stabilization
-Vertical grip
-HD picture and video capture
The Kodak Z980 digital camera will be available in the spring 2009 for about $399.95.

Press release:
New introductions from Kodak deliver brilliant images, unique ways to create and easy ways to connect
Pocket-sized HD Digital Video Camera and 24x Ultra-Zoom Digital Camera highlight Kodak launches at 2009 International Consumer Electronics Show
Las Vegas, NV, January 8, 2009 – Eastman Kodak Company (NYSE:EK) today introduced new products and services that make it easier than ever for consumers to make the most of life's moments, from go-anywhere High Definition video recording to simple, automatic capture of brilliant images.
Kodak's latest innovations are on display at Kodak's booth at the 2009 International Consumer Electronics Show in Las Vegas (booth 31400, South Hall).
"These new products deliver great performance but are still so easy to use that you'll never miss a memorable or important moment," said John Blake, General Manager Digital Capture and Devices, Vice President, Eastman Kodak Company. "With these new products consumers can count on Kodak to help them capture brilliant images and video, easily share them with friends and family, and create a wealth of lasting memories."
Leading the introductions is the new KODAK Z980 Digital Camera, featuring a wealth of power and versatility, including a 26 mm wide angle, professional quality, 24X image stabilized optical zoom lens and a vertical shutter release with detachable vertical grip.
"Photographers looking for more from their digital camera will find it in the Z980," Blake said. "Our innovative Smart Capture feature makes camera adjustments automatically, delivering brilliant images automatically in virtually any setting."
The new KODAK Z980 Digital Camera offers:
• Kodak's exclusive Smart Capture feature, which analyzes scenes and adjusts camera settings to deliver beautiful pictures more often;
• 26 mm wide angle/24X SCHNEIDER-KREUZNACH VARIOGON Image Stabilized Optical Zoom Lens;
• HD picture and video capture;
• Vertical shutter release and detachable vertical grip, for greater comfort and control when shooting scenes vertically;
• Hot shoe for optional KODAK P20 zoom flash;
• Available at US$399.95 MSRP from Spring, 2009.
Kodak also introduced new models to its M-Series Digital Camera line, led by the KODAK EASYSHARE M380 Digital Camera. A sleek but powerful digital camera for style-savvy consumers, the M380 delivers an innovative feature package led by Kodak's Smart Capture feature. The new camera's compact design also boasts a 10MP sensor, 5X optical zoom, and 2.7″ LCD. The M380 will be available in black, red and teal, and retail at US$179 MSRP from March, 2009;
Kodak expands its line of video cameras with the new KODAK Zx1 Digital Video Camera, a compact and weather-resistant device that enables "go-anywhere" High Definition recording.
The Zx1 allows users to shoot and share high-quality video quickly and simply, with 720p HD video capture – at 60 or 30 fps – a vibrant 2.0-inch LCD screen, and built-in software for easy editing and sharing of content to YouTube™ and other social media and networking websites.
"The Zx1 is a fun and interactive way to engage in 'on-the-go' storytelling, and enables consumers to quickly and easily share their adventures online," said Blake.
The new camera's feature set includes:
• Pocketable 720p HD video capture at 60 fps
• Weather-resistant design that stands up to splashes, dirt and more;
• High-quality video capture in bright light or low light – from the beach, to the nightclub;
• Easy editing, personalization, and uploading to YouTube or other Internet sites with built-in video software, ArcSoft Media Impressions for Kodak;
• Expandable SD/SDHC Card slot for memory cards up to 32 GB, that can record up to 10 hours of HD video*;
• Available in five colors: black, red, pink, blue and yellow**;
• The KODAK Zx1 Pocket Video Camera will be available from Spring 2009, and retail for US$149.95 MSRP.
Kodak also unveiled new accessory offerings, including KODAK SDHC Video Memory Cards, customized for faster video transfer and available in 4, 8 and 16 GB capacities to capture and store more HD video.
*Record approximately 20 minutes per 1GB at HD 30fps.
** Color availability may vary.
About Kodak
As the world's foremost imaging innovator, Kodak helps consumers, businesses, and creative professionals unleash the power of pictures and printing to enrich their lives.
To learn more, visit the newly redesigned http://www.kodak.com and follow our blogs and more at http://www.kodak.com/go/followus.
More than 70 million people worldwide manage, share and create photo gifts online at KODAK Gallery –join for free today at www.kodakgallery.com