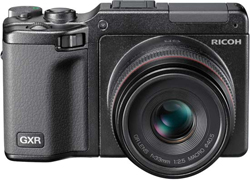 Ricoh GXR
Wow, that was fast! Photography Blog is one of the first to review the new camera system from Ricoh, the Ricoh GXR. This system is pretty unique where you have interchangeable camera units that make the possibilities endless. You can have a small sensor with a long telezoom and a large sensor with a portrait lens.
Some key features for the Ricoh GXR system:
-Interchangeable unit camera system
-Smaller than Micro Four Thirds cameras
-A12 50mm F2.5 MACRO camera unit with 12.3 megapixel APS-C size CMOS sensor
-S10 24-72 mm F2.5-4.4 VC camera with 10 megapixel 1/1.7-inch CCD sensor
Photography Blog ends up giving the Ricoh GXR camera system a "Highly Recommended" rating with 4.5 out of 5 stars. The reviewer really enjoys this Ricoh and believes there will be lots of interesting combinations in the feature. The camera is able to take pictures of good quality and the slide mechanism works really well. One downside is that right now there are few combinations and the combinations could be better. It will be very interesting to see how Ricoh develops the GXR system in the future and I hope they will have some success since they are so brave and innovative.
Read the full review of the Ricoh GXR camera system here.