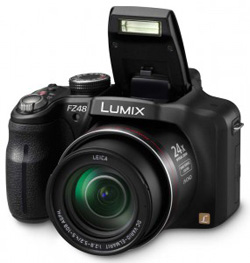 Panasonic Lumix DMC-FZ48 / FZ47
Photography Blog has reviewed a compact camera from Panasonic with an interesting zoom range that starts at 24mm and ends at 600mm. The camera is called Panasonic Lumix DMC-FZ48 (in some markets Panasonic Lumix DMC-FZ47) and also comes with 12 megapixels and full HD video recording.
Some key features for the Panasonic Lumix DMC-FZ48 / FZ47:
-12 megapixel image sensor
-24x optical zoom lens (25-600mm)
-3″ LCD screen
-1080p Full HD movie recording
-Power O.I.S anti-shake system
-Intelligent Auto mode
Photography Blog ends up giving the DMC-FZ48 a "Recommended" rating and an overall score of 4 out of 5 possible stars. The Panasonic camera scores highest on ease of use, design and features, a little lower on image quality, while it scores lowest on value for your money. It is a bit surprising that the camera scores so low on image quality as the image sensor only contains 12 megapixels, but the reviewer finds pictures taken at ISO 400 and higher, to be full of noise. Let us hope Panasonic works harder on image quality with the next camera in this series.
Read the full review of the Panasonic Lumix DMC-FZ48 / FZ47 digital camera here.