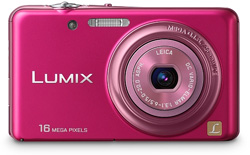 Panasonic Lumix DMC-FS22
Photography Blog has tested a new digital camera from Panasonic that has a 16 megapixel sensor. The camera is called Panasonic Lumix DMC-FS22 (or FH7 in some markets) and also comes with 4x optical zoom and HD video recording. Let us hear what the reviewer thinks about this Panasonic camera.
Some key features for the Panasonic Lumix DMC-FS22:
-16 megapixel image sensor
-4x optical zoom lens (28-112mm)
-3″ LCD screen with touchscreen abilities
-Able to record 720p HD videos
-84MB built it memory
Photography Blog ends up giving the FS22 a "Highly Recommended" rating with an overall score of 4.5 stars out of 5 possible. The Lumix camera scores highest on design and features, while it scores a little lower on image quality, value for your money and ease of use. If you are looking for a slim compact camera with tons of good features, but do not necessarily need the longest zoom range, this Panasonic camera might be your choice.
Read the full review of the Panasonic Lumix DMC-FS22 / FH7 digital camera here.