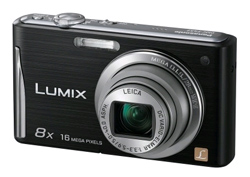 Panasonic Lumix DMC-FS37
CNET UK has reviewed a new compact camera from Panasonic with a nice Leica lens. The camera is called Panasonic Lumix DMC-FS37 (DMC-FH27 in some markets) and also has plenty of megapixels and a touchscreen interface.
Some key features for the Panasonic Lumix DMC-FS37:
-16.1 megapixel image sensor
-8x optical zoom Leica lens (28-224mm)
-3″ touchscreen LCD
-Able to record 720p HD videos
CNET UK ends up giving the DMC-FS37 an overall score of 3.5 stars out of 5 possible. On the positive side the reviewer finds the camera to have a useful zoom range, large LCD screen, stylish design and its performance is fast. On the negative side the reviewer does not like the touchscreen interface and the video function could be better. This Panasonic seems like a good compact camera with good image quality and long zoom, but it is a bit pricey and larger than other compacts.
Read the full review of the Panasonic Lumix DMC-FS37 / DMC-FH27 digital camera here.